Dramatic Gap between Chile's Public and Private Health Care Sectors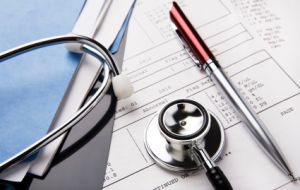 An investigation by the World Bank and Chile's Health Ministry confirmed large discrepancies between the public and private health sectors.
The study found that more than 650,000 people are on waiting lists in the public health care sector in Chile; a 40% shortage in the number of specialists: and a 70% difference in the patient-to-physician ratio between the public and private sectors. These statistics are up from the last study in 2008, which only showed a 21% difference.
"People have realized that you have to train many more doctors," said Cecilia Sepúlveda, Dean of the University of Chile Medical Center, adding that "Chile needs to invest in specialists."
The doctor deficit is due to the sudden influx of people into Chile's public health insurance program, FONASA. Inscription into the public health system is increasing at a 6.7% yearly clip, while the estimated need for physicians had previously been based on the 2.01% inscription rate, which tracks national population growth.
Compounding the problem is the lack of medical academics to train future specialists. The medical education system, said the report, is not coordinated with the needs of the health sector. "It is increasingly costly to find professors from certain specialties, because they are in high demand and many prefer clinical work to teaching classes," a source from the health sector told local media. "There has to be an agreement the medical community to provide enough university professors, and then they can train a new group of specialists to suit the country's needs."
Following the release of the study Chile's National Medical School announced a national agreement to close the gap between the private and public health sectors. The new strategy aims to redesign the education system based on the needs of health services and increases incentives to keep physicians in the public sector. This plan notwithstanding, many health professionals believe it is going to take a national effort to change the healthcare system.
"It requires an effort from all of the sectors involved: the health authority, universities, the medical school and, most definitively, society," said Pablo Rodríguez, President of the National Medical School.
Lindsay Fendt – Santiago Times