EU "Grumpy" Seven Led by France Against Trade Talks with Mercosur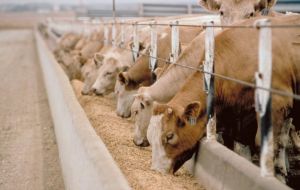 France and six other countries expressed concern before the European Union about the competition consequences for the farm sector in the event of an agreement with Mercosur.
The issue will be considered at the European Union agriculture ministers meeting in Brussels next Monday precisely on the opening day of the Latin America, the Caribbean and the European Union Summit in Madrid when the resumption of EU–Mercosur trade and association talks, stalled since 2004, are expected to be re-launched.
The talks so far had been formally conditioned to the World Trade Organization Doha Round (also stalled) but a significant reason has been the agriculture issue which triggers strong reactions from the EU powerful farmers lobby. Spain, hosting the summit and as pro tempore president of the EU, believes it is a priority to resume talks to reach an agreement on the association and cooperation agreement with Mercosur that was originally launched in 1999.
But the EU Agriculture Council has included in its agenda a discussion on the possible resumption of negotiations with Mercosur because France and six other countries have expressed fears about competition from Mercosur agriculture and agri-business. France is supported by Austria, Poland, Finland, Greece, Hungary and Ireland that are expected to make a formal joint statement on the issue in Brussels next Monday.
The seven countries believe that Mercosur competition in global agriculture markets has "been reinforced" and increased significantly in the last few years, compared to the EU, therefore an "impact study" on the consequences of such an agreement on EU agriculture has become imperative.
In the talks, the South American group has insisted in concessions for the opening of EU markets to Mercosur agriculture and livestock production, while the EU has demanded greater access for industrial goods and in the services sector.
France and other countries argue that EU has already granted sufficient concessions in agriculture at international level, in reference to the Doha Round negotiations for the liberalization of world trade. Furthermore, the group of seven has anticipated that in the event of a resumption of trade talks with Mercosur some products be classified as "sensitive", so as to minimize some of the concessions to the South American group.
According to a non-official European Commission report, an agreement with Mercosur could have a serious impact on the beef, pork and chicken industries in several European countries including several autonomous regions in Spain.