Sir Elton John's "Jesus Super-Intelligent Gay Man" Comment Bans him for Egypt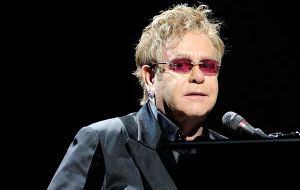 Sir Elton John, 63, has been banned from performing in Egypt over his views on homosexuality and religion. The outspoken British pop icon was due to play a private show on 18 May but has been told he is not welcome.
The head of the country's musician's union, Mounir al Wasmi, says the decision was taken following a controversial interview earlier this year.
"I don't know what makes people so cruel. Try being a gay woman in the Middle East—you're as good as dead," said Sir Elton John in February, before suggesting Jesus was a "super-intelligent gay man" who understood human problems.
He is not the first to suggest Jesus might have been gay, an idea that has been debated by students of religion for more than forty years.
Mounir al Wasimi has insisted that Sir Elton's "anti-religious sentiments" cannot be tolerated. "How do we allow a gay, who wants to ban religions, claimed that the prophet Eissa (Jesus) was gay and calls for Middle Eastern countries to allow gays to have sexual freedom?" he said.
Al Wasimi said his union was the only organization "authorized to allow performances by foreign singers in Egypt."