Colombia the Rising Star of the Oil Industry in South America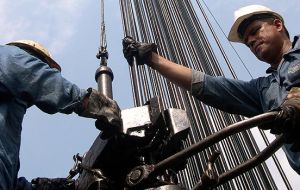 Colombian Oil Company Ecopetrol (NYSE:EC) said this week it broke an 11-year-old export record in April, selling 403,510 barrels per day (bpd) of crude oil and refined products to foreign clients.
The previous oil export record had been set in July 1999, when Ecopetrol (NYSE:EC) exported 398,275 bpd of oil and refined products. The export value of 906 million US dollars in April also set a record, exceeding the 731 million registered last November.
Castilla-grade crude, which is produced in the central Colombian province of Meta, accounted for the bulk of exports, with 269,230 bpd last month. The main destination for Colombia's oil exports was the Gulf coast of the United States, with a 58% share of the total, followed by the Asia-Pacific region, with 24%. The price of Ecopetrol's export basket of crude in April was 75 USD per barrel, the highest price since September 2008.
Ecopetrol is the fourth-largest oil company in Latin America behind Petroleos de Venezuela S.A., Petrobras and Petroleos Mexicanos.
Colombia's output is expected to reach at least 1.2 million barrels a day by the end of 2012, one oil company official said which is nearly double the average daily production reached last year. The ramping up of crude production would strengthen the country's status as the region's fourth-largest oil producer and probably lead to increased Colombian exports to the US, analysts said.
Pedro Rosales, executive vice president for transportation and refining for Ecopetrol, said in an interview Monday night that wildcatters in the eastern states of Casanare and Meta had met with such unexpected numbers of gushers that the company was straining to get the crude to market. "The success is overwhelming our pipeline system's capacity," said Rosales, who also outlined a plan for a 4.3-billion, 500-mile pipeline to transport the newly found heavy crude from eastern oil fields to the Caribbean oil depot.
Output is rising rapidly: In March, Colombia averaged 763,000 barrels of crude a day. That's up from an average of 672,000 barrels daily for all of 2009. Government and industry officials attribute the rise to Colombia's open-door policy with regard to oil drilling. Colombia has attracted billions in outside investment thanks to relatively low tax and royalty rates that have lured dozens of private-sector producers.
Colombia has also benefited from an influx of Venezuelan oil executives and engineers, many of whom were fired from Venezuela's state-run oil company by that nation's populist president, Hugo Chávez, after a bitter 2002 strike.
The eastern part of Colombia features crude that resembles that of Venezuela's Orinoco Belt, the largest reserve in the hemisphere. The Venezuelan expatriates working here are experts at dealing with the heavy oil that represents the bulk of Colombia's recent energy finds.
But perhaps the most important factor boosting oil output is improved security under President Álvaro Uribe after years of armed conflict. Government forces have largely subdued the leftist guerrilla FARC groups that for years blew up pipelines and kidnapped petroleum workers.
Ecopetrol—which accounts for 82% of Colombia's crude output and reserves—is also investing big sums in the region. Better technology and improved recovery rates in aging oil fields have also boosted output, said PFC Energy analyst T.J. Conway. "Colombia has done an exemplary job in reversing production declines that started in the late 1990s," Conway said. The production rise is remarkable considering that five years ago Colombia's output was declining so fast that the nation expected to be a net oil importer by now.
Deteriorating security was the cause of the steep decline in Colombia's output after it set a national record by averaging 816,000 barrels a day in 1999. Colombian oil industry association president Alejandro Martínez said in April that the nation's daily production would reach 840,000 barrels by the end of this year and average 800,000 for all of 2010.
Among Latin American crude producers, Colombia currently ranks behind Mexico's 2.7 million barrels a day; Brazil, with 2.5 million barrels; and Venezuela, at 2.3 million barrels, according to US Department of Energy statistics.
Rosales says the new target is based on analysis by the mining and energy ministry and by Ecopetrol. He said that the 1.2 million figure was the "least optimistic" target and that daily production could reach 1.4 million barrels daily within two years.