Falkland Islands Represented at London Festival of Stamps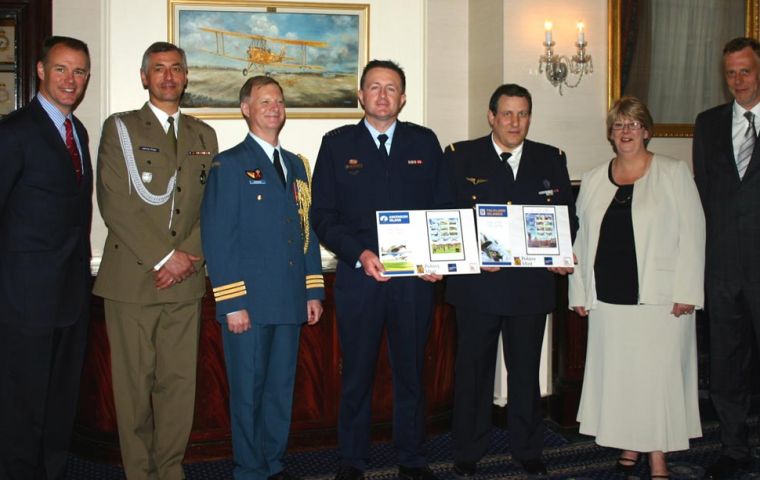 The Falkland Islands is attending the 2010 International Stamp Exhibition, one of the highlights of the London Festival of Stamps—a year long celebration of stamps, stamp design and postal heritage which also marks the centenary of the accession of George V, the philatelist king.
The 2010 International Stamp Exhibition contains approximately 150 stands manned by postal services and stamp dealers from around the world. Falklands' Postmaster Moira Eccles is representing the Falkland Islands and its long postal and stamps tradition.
In 1869, the Falkland Islands introduced a frank to show that postage had been paid. The first stamps were sold in Stanley in 1878. To mark the centenary of this event—and in acknowledgement of the growing popularity of Falklands' stamps worldwide—the Falkland Islands Government established its own Philatelic Bureau in 1978.
The Philatelic Bureau is responsible for the sale and production of Falkland Islands stamps, frequently commissioning art-work from local artists. From its inception it has operated an international mail order service.
During the 1980s, the sale of Falkland Islands stamps and philatelic material was one of the Government's largest earners. Whilst other revenues have grown, and this is no longer the case, Falkland Islands stamps remain extremely popular. The Postmaster has responsibility for the production and sale of stamps on behalf of the Government of South Georgia and South Sandwich Islands, and the Bureau also acts as a sales agent for the British Antarctic Territory.
During the summer, tourists throng its offices with staff frequently visiting the larger cruise-ships to offer an 'on-board' philately service.
Last May 7, the Falkland Islands stamp issue commemorating the 70th anniversary of the Battle of Britain was released, to celebrate the achievements of 2,927 brave young airmen from no less than 14 allied countries who over 114 days from 10 July to 31 October 1940 took the skies to defend Britain from Nazi tyranny. Sadly, 544 did not return; at the start of 2010 it was believed that only 90 of 'the Few' (as Churchill named them) were still alive. Mrs. Eccles was delighted to be able to hold the official launch for the Battle of Britain stamp issue at the Royal Air Force Club in London.
The launch was attended by the Military Attaches of the USA, Poland, Canada, Australia and France, among others. Also present was Tim Underwood, managing director of Creative Direction, which manufactures stamps on behalf of the Falkland Islands Government.
The Falkland Islands are a United Kingdom overseas territory with a population that has risen from 1,800 in 1982 to around 2,500 in 2006 (the latest Census). Nearly 96% of the population is British and 79% of the population is aged 55 years and under.
The majority of young Islanders studying overseas chose to return to the Islands to live and work, contributing to its thriving private and public sectors.