Uruguayan Government Raises 2010 Economic Growth Forecast to 5.1%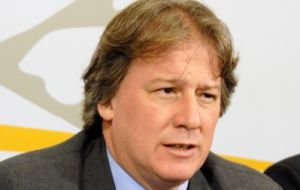 Uruguay's government raised its 2010 economic growth forecast and said it will focus on health programs, security and infrastructure to maintain expansion of at least 4% annually, Economy Minister Fernando Lorenzo said.
The government boosted its growth forecast for Uruguay's economy this year to 5.1% from 4%, Minister Fernando Lorenzo told reporters in Montevideo. The economy will expand an average of 4% annually through the end of President José Mujica's term in 2015, with growth slowing to 4.2% next year, Lorenzo said. "From 2011 on we believe the Uruguayan economy will make significant improvements in terms of strength and ability to grow in the long term," Lorenzo said. "We consider it a prudent forecast".
Lorenzo said that real income for the private sector in the five year period could be estimated to increase by 14.5% even when GDP in the period is forecasted to expand 23.2%. A controversial issue is resources for education which the ruling coalition promised at 4.5% of GDP and the teachers and other staff are demanding 6%.
The exchange rate with the US dollar (USD) is estimated to remain rather stable increasing from the current 19 Uruguayan pesos (UYU) to 19.90 in 2011, reaching 21.6 pesos in 2015. Inflation is expected to remain moderate at 6,7% in 2010, going down to 4.8% in 2015. This means prices in the five year period will experience an overall increase of 31%.
Another important indicator, the GDP/debt ratio, is planned to drop 25 percentage points in the five-year period to 40% of GDP with a fiscal budget deficit in the range of 0.8% of GDP in the five years. Government owned companies such as power generation; fuel refining, banking, insurance, waterworks are expected to contribute with an annual surplus of 90 million USD to the budget.
Uruguay's economy, with a GDP of 32 billion USD, showed resilience by expanding 2.9% in 2009, avoiding a recession during the global financial crisis, Lorenzo said.