World Markets Lower After Taking a Second Look at Euro Rescue Plan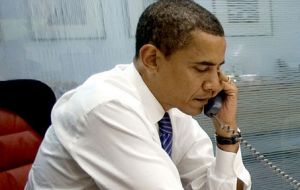 United States shares closed lower on Tuesday as global stock markets stalled on niggling worries over European debt problems. On Wall Street, the Dow Jones index closed down 0.34% following a turbulent day's trading, and a nearly 4% rise on Monday.
A White House spokesman admitted US President Barack Obama was concerned over the situation in Europe. European measures to halt the debt crisis were announced at the weekend. The package of loans and guarantees worth 750bn Euros initially buoyed markets, with shares in London up 5% and the Paris stock market up 9%. But both markets fell Tuesday, by 1% and 0.7% respectively. Shares in Frankfurt were up slightly.
President Obama was said to be "actively engaged" in preventing the impact of the crisis from spreading to the US financial sector. The concern is that a loss of confidence in some European economies with high debt levels could spread to other economies, including the US. President Obama has called for "resolute action" to tackle the debt crisis.
President Obama earlier spoke to the Spanish Prime Minister José Luis Rodríguez Zapatero to stress the importance of the country taking "resolute action" to strengthen its economy and build market confidence. Spain has been deemed at risk by global investors, alongside Greece and Portugal.
In the UK, share prices fell in line with European markets. Uncertainty during the day over who will form the next government did not appear to hit investor confidence. Although the FTSE fell slightly, the successful auction of UK government bonds on Tuesday morning suggested a vote of confidence in the UK economy among global investors. Demand for the bonds remained strong, with the issue being two-and-half times oversubscribed. The government wanted to borrow £2.25bn, while investors offered to lend £5.6bn.
As a coalition government between the Conservatives and the Liberal Democrats looked more likely, the pound rose against the dollar and the Euro. The pound rose above $1.50 following the resignation of Gordon Brown, having reached a low of around $1.4725 earlier in the day. Against the Euro, the pound also rose to 1.1793 Euros.