Chilean Household Debt Increases with a Larger Portion of Non-Bank Personal Loans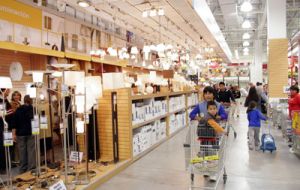 A recent study from the Central Bank of Chile written by economists José Miguel Matus, Nancy Silva, Alejandra Marinovic y Karla Flores found that Chilean household debt increased from 23% of GDP in 2000 to 39.1% in 2009.
While bank mortgages continue to be the most prolific form of credit, claiming approximately 45% of all national debts, experts say a rise of non-bank personal loans is "an area of special concern."
Over the past decade, banks have seen a decrease in their control of the loan market. Once owning 81% debt in the year 2000, banks controlled only 72% of national household debt in 2009.
The Central Bank of Chile study reports the largest increase in Chilean debt came in the form of personal loans. Non-bank institutions that once distributed 26% of personal loans in 2000, recently distributed 47% in 2008. The study highlights a sharp rise Chilean debt to department stores and super-markets, which hat recently totalled 11% of total national debt.
Membership credit cards to supermarkets and department stores have left Chilean households with increasingly large amounts of debt. Debt to these retailers allows Chileans to buy a wide variety of goods—from food to home improvement products—thus creating a false sense of financial prosperity.
Another contributing factor to rising household debt, said the study, is a new regulation in 2001 that halves the minimum amount of capital needed to start a bank company. Chile's largest department stores—including Falabella, Ripley, and Almacenes París—have capitalized on their size and accessibility by offering lines of credit through Banco Falabella, Banco Ripley, and Banco París.
The International Monetary Fund has attributed this rise in household debt over the past decade as a factor contributing to steady growth, low inflation, low international interest rates, and high incomes. Despite the growing household debt through the economic crisis that began in 2008, Chile had the lowest rate of overdue loans payments in Latin America, second only to Uruguay.
Callan Hetterich – Santiago Times