Indian Sub-Submersible Gas Rig Sinks off the Coast of Venezuela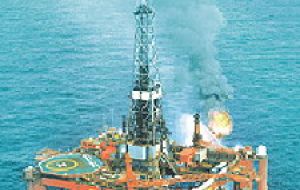 Aban Offshore (BOM:523204), India's largest offshore drilling and oil field services provider, suffered a major setback on Thursday, when its gas platform Pearl sunk off the coast of Venezuela. This was one of Aban's biggest money spinning rig earning 358,000 US dollars a day.
Venezuelan President Hugo Chávez broke the story on Twitter Thursday afternoon, tweeting, "I'm afraid to inform you that gas platform Aban Pearl sank a few moments ago. The good news is that 95 workers are safe." He also said that the workers had been evacuated and that Navy patrols were moving to the area.
Following this, Aban Offshore (BOM:523204)—in a statement to Bombay Stock Exchange—said, "Following an incident on the semi-submersible rig Aban Pearl which impacted its stability, a decision was taken to evacuate all personnel. All crew members have now been evacuated and are safe. Further updates will be provided as the situation clarifies." No further information was available from Aban on the potential revenue loss.
"It is one of the biggest revenue generators. Also, it's a semi-submersible rig. This kind of rigs has higher depth and therefore their day rates or rents are higher than the other rigs," the source said.
The rig is learnt to have fetched daily rates of 358,000 dollars a day. It belongs to Aban Singapore, which in turn, is a subsidiary of Aban Offshore. It could drill up to 1,250 feet and is one of the 20 ships and rigs Aban owns, according to the company's website.
Agency reports said, Aban Pearl was being operated by Venezuela's state oil company, Petróleos de Venezuela (PDVSA), which is operating the field. The gas platform was drilling in the Mariscal Sucre offshore natural gas project, off the coast of Venezuela's Sucre state.
Venezuela's Energy and Oil Minister, Rafael Ramírez, said there had been a problem with the flotation system of the semi-submergible platform, causing it to keel over and sink. But he said a tube connecting the rig to the gas field had been disconnected and safety valves activated, so there no risk of any gas leak.