Over-Stressed Uruguayan President will Miss Madrid Summit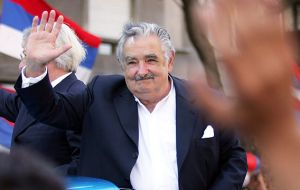 Uruguayan president José Mujica will be missing the coming Latin America, the Caribbean and the European Union Summit scheduled for next week in Spain on medical grounds, it was reported officially and confirmed by the president.
The decision to suspend the flight to Spain was taken on medical advice since the 74 year old leader was found to be experiencing an "over exposure to stress" given the hyper activity displayed since he took office last March: in two months and a half he has visited Brazil, Venezuela, Bolivia and Argentina on several occasions, and has a working day of 12 to 15 hours.
Vice President Danilo Astori and Foreign Affairs Minister Luis Almagro will be leading the Uruguayan delegation to the Madrid event.
"I was told to rev' down" said President José Mujica in an informal chat with journalists, but he added that the medical advice not to travel to Spain "is not serious" and does not mean "I have to slow my domestic agenda." He added that he has "difficulties sleeping, but it's not worrisome if I pay attention to what doctors recommend me."
Minister Almagro described the clinical situation of President Mujica as "momentary" and said it will be back to normal in a few days. "It's simply a very specific circumstance, some indicators don't show up as they should and the effort and lag of a continental flight is not convenient at the moment," said Almagro who underlined "this is not at all related with what the president experienced five years ago" when he was hospitalized for a whole month because of vasculitis, which impacts on the body's defences and spears a renal deficiency.
Almagro said that during this week's cabinet meeting not only did the president discuss the government's agenda but the overseas trips planned for next year.
First Lady Senator Lucía Topolansky said that there's nothing to worry about. Asked if she believed her husband would be less active, Ms. Topolansky said "its' hard to see a horse flying unless he's Pegasus."
Next week, Mujica will be 75. He took office March first and his personal doctor has recommended he should rest more and move on with a lighter agenda.
The Uruguayan president—a former guerrilla leader—spent a total of 13 years in jail between 1970 and 1985. He benefited from an amnesty on the return of democracy in 1985. Many of the physical problems he suffers are attributed to the harsh conditions of incarceration under the military dictatorship that ruled Uruguay from 1973 to 1985.