World Stock Markets Plunge and Euro Falls to 18-Month Low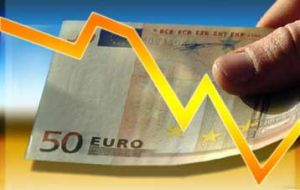 World stock markets plunge Friday and the Euro hit an 18-month low against the dollar, on growing fears that the austerity packages unveiled across Europe could tip the continent back into recession and stifle global economic recovery.
The FTSE 100 lost more than 3%—down 170.88 points to 5262.85—its biggest daily percentage drop since the end of November last year. In Spain, the Ibex 35 lost 6.64%, while Germany's Dax dropped nearly 4%, and France's CAC 40 was 5% lower. Wall Street also fell back. In Latam, Brazil's Bovespa was down 2.12%; Argentina's Merval, 2.97%; Mexico's IPC, 1.64% and Chile's IPSA, 0.85%.
On the currency markets, the Euro fell as low as 1.237 US dollar, down around two cents on the day, before a slight recovery.
With investors already worrying about whether the Greek rescue plan would be enough to save the country from defaulting on its debts, economic news from Spain added to the pessimistic mood about Europe's prospects.
Spain's underlying inflation rate turned negative in April for the first time in 24 years, prompting concern that the country could miss its target of a 1.8% increase in GDP in 2011. This would have a knock-on effect on its ability to reduce its deficit, which stood at 11.2% of GDP last year. Analysts believe forthcoming spending cuts and tax rises in Spain, Portugal and Greece to help tackle their deficits are already likely to put a brake on economic growth.
There were also increasing signs of strain on the single currency itself, with news that French president Nicolas Sarkozy had threatened to pull his country out of the Euro to force Germany to agree to the Greek rescue plan. In a speech in London this week, former US Federal Reserve chairman Paul Volcker added to the chorus of those predicting the currency's demise by saying the Euro faced "a potential disintegration."
Meanwhile, in a sign that the crisis in Greece was still high on the political agenda, G7 finance ministers including US Treasury Secretary Timothy Geithner held a conference call Friday afternoon to discuss the latest developments.
Amid the market turmoil, bank shares were among the leading fallers, as worries grew about their exposure to European sovereign debt. Barclays lost more than 6%, down 20.1p to 308.9, while Spain's Banco Santander fell 10% and France's Société Générale dropped 9%.
As investors sought safe havens gold hit a record high of nearly 1,250 USD an ounce, before falling back to 1,219 USD.