Uruguay among the most positive minded countries of the region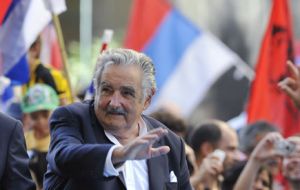 Uruguay has turned into one of the most optimistic country of the region according to the 2009 Governance Barometer which assesses perceptions and prospects of the population in 21 countries of Latinamerica and the Ibero-America (Spain and Portugal).
When asked if the country was on the right of the wrong trail, 70% of those interviewed in Uruguay replied positively, points out the report elaborated by the Ibero-American Consortium of Market and Research and Advise, CIMA.
Uruguay is also in the leading pack of countries regarding perceptions as to presidential performance and an adequate management of political stability. In effect 48% said Uruguayan president Jose Mujica was acting in a "good" way and 61% support the performance of the president so far. (He has been in office since March first).
This compares most favourably with neighbouring Argentina where only 14% said President Cristina Kirchner was doing a good job and therefore she was being supported.
The governance barometer also shows that political parties have become the less prestigious institution in Latinamerica, except for Uruguay where the rating is above that of all other countries. The average regional confidence rating is 12%, which is catalogued as "alarming". However in Uruguay political parties enjoy a confidence rating above 30%.
The report also refers to populations perceptions regarding the "most serious problems facing the different countries" such as security, unemployment and corruption.
In nine out of 21 countries surveyed, Costa Rica, Guatemala, El Salvador, Brazil, Venezuela, Panama, Mexico, Argentina and Uruguay (58%) feel that lack of security is the most serious problem faced by common citizens.
In Uruguay, unemployment and corruption are only considered as very serious problems by 10% of the population.
As to the economic situation, most Uruguayans are not that optimistic and anticipate that one year from now "things will be the same as now".