Brazil launches its public broadcasting service targeted to Africa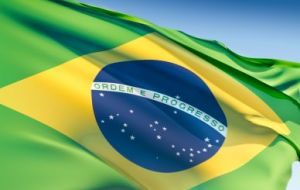 Brazil launches Monday its international Public Broadcasting Service with the initial purpose of penetrating the African continent, more precisely the former Lusitanian Empire where Portuguese is spoken.
President Lula da Silva is scheduled to officially launch the international Brazil TV channel from the Itamaraty Palace, seat of Foreign Affairs Ministry and for the ceremony representatives of the African community have been invited.
According to the Brazilian presidency website the Brazil TV will cater to the almost three million Brazilians living overseas.
The signal is expected to reach 49 African countries including those were Portuguese is the main language, Angola, Mozambique, Cabo Verde, Guinea, Guinea-Bissau, Equatorial Guinea and Santo Tomé and Principe.
The signal in Portuguese language follows on the steps of other public broadcasting services such as Italy's RAI; Britain's BBC; Spain's TVE; France's TV5 and NHK from Japan.
The Brazilian government has signed a contract with the African pay TV operator Africa-Multichoice to distribute the signal.
Brazil already has an international television channel but it is private and belongs to the powerful media group O'Globo.