Argentina's Soy King praises Uruguay and its farming revolution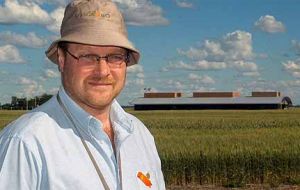 Gustavo Grobocopatel also known as the Soy King of Argentina praised Uruguay's conditions for corporate growth and said the country in the last seven years has undergone "revolutionary changes".
Grobocopatel an Argentine agronomist is considered one of the most successful soy farmers in Argentina and has expanded his business aggressively to Uruguay, Brazil, Paraguay and even Colombia.
"The medium and long term situation of agriculture is most positive. There's a steady increase in demand, and for renewable energies which we can produce. We're in the right business at the right place at the right moment", said Grobocopatel following his company's Agronegocios del Plata purchase of grain deposit facilities in Tacuarembó, in the centre of Uruguay. A three million US dollars direct investment.
"We must see how we can generate a production structure, linked to a business chain, with the private and public sectors converging in a value generating process and that this value is distributed in the fairest way possible", added Grobocopatel.
He said Uruguay has very positive conditions for business and investments. "There is political and institutional stability with clear reliable rules of the game. It has an excellent infrastructure, first class labour, good, young enterprising professionals who before were thinking of leaving the country but now have a future".
"In these last seven years Uruguay has experienced foundational, revolutionary changes which maybe you don't appreciate in all their magnitude because you live here, but those of us coming from overseas we can really see the great transformations", added Argentina's Soy King.
He also emphasized that the agriculture investments that have come to Uruguay are long term and "therefore are here to stay".