Cuban consul in Norway accused of "biting" demonstrator's hand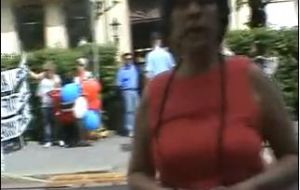 An allegedly peaceful rally for a democratic Cuba outside the Cuban Embassy in Norway's capital Oslo turned bloody at the weekend, and could turn into a diplomatic incident.
Norwegian-Cuban dancer Alexandra Joner (19) was filming the event, when she claims the Ambassador's wife approached her and bit her left hand.
"She stood right beside me. I didn't say anything to her. But then she began swearing at me in Spanish. She took pictures of me, and I asked her to stop. When I held my hand over her camera, she bit me," Joner told local TV2 from Oslo.
The famous dancer was taken to the casualty clinic. Medical staff confirmed the bite was human, and put her on a course of antibiotics. Human bites are considered to be more dangerous than dogs'.
Consul Carmen Julia Guerra denies biting Joner, however, claiming it was she who was attacked instead. The Cuban Embassy has sent a supporting letter to the Norwegian Parliament's Information Centre with pictures, alleging demonstrators have fabricated the incident.
Meanwhile, a potential diplomatic incident is brewing, and Norwegian Foreign Minister Jonas Gahr Støre has become involved. Though embassy staffs have diplomatic immunity Ms Guerra risks being declared a persona non grata in Norway.
Deputy leader of the Conservative Party, Jan Tore Sanner MP, has called for her expulsion.
"Støre can call the ambassador in, of course, and give him a reprimand. But I think he should go one step further and say Norway doesn't accept that diplomats lash out at peaceful demonstrators, that she is therefore undesirable, and should be sent home," says.
The Cuban Ambassador has also previously called Sanner an insect and a banana politician, TV2 claims. Støre has called the description "inappropriate".
"I've been informed there was a disturbance outside the embassy where one of its staff has been accused of acting indelicately. I'm compelled to respond formally," says Støre.
Alexandra Joner has reported the consul to the police.