Argentina announces Malvinas sovereignty presence with patrol vessels
Saturday, May 29th 2010 - 05:31 UTC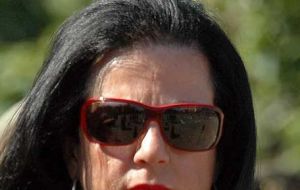 Argentine Defence minister Nilda Garré said that four navy patrol vessels will be sent to the "Mar Argentino" (South Atlantic) to show presence and the willingness of Argentina to exercise sovereignty over the (Argentine) Falklands/Malvinas Islands.
The patrol vessels are under construction in a joint project with Chile and the first one should be ready for operations early next year said Ms Garré during a brief interview with journalists from the official news agency Noticias Argentinas.
"Now begins the construction of four ocean going patrol vessel to complement the tasks of the Coast Guard which is to patrol up to mile 200. We're not talking or planning to send troops to the zone but simply to show the presence of Argentina and our willingness to exercise sovereignty over our maritime areas", added Ms Garré.
The minister revealed that the ocean faring patrol vessels were a regional project, "from which Brazil dropped out" but it was followed up, in all its dimension by Chile that developed the "basic engineering" for such vessels.
"They are inter-operational vessels, practically similar to those the Chileans have and the idea is not to delay the decision. Next year the first patrol vessel will be in charge of complying with the naval task of patrolling our waters and imposing our sovereignty", pointed out Ms Garré.
In related news Deputy Foreign Secretary Taccetti said that the current situation over the Falklands was triggered when the British begun exploring for oil "in a sea that does not belong to them, not do the Islands".
That is why "the decisions regarding fisheries, oil exploration and exploitation and maritime navigation in the zone".
Taccetti said that the current Argentine diplomatic approach is helping to build a "world consensus on the issue. The British will have at some point to sit and negotiate sovereignty because of world pressure. In all forums we bring up the subject and it's working, consensus is building".
"Britain's position is unsustainable and even inside Britain there are sectors with the idea of putting an end to the dispute. Some European countries are supporting us, although tepidly still but a growing majority favour a negotiated solution", concluded the top Argentine official