Brazil calls on South America to have its own military dissuasive capacity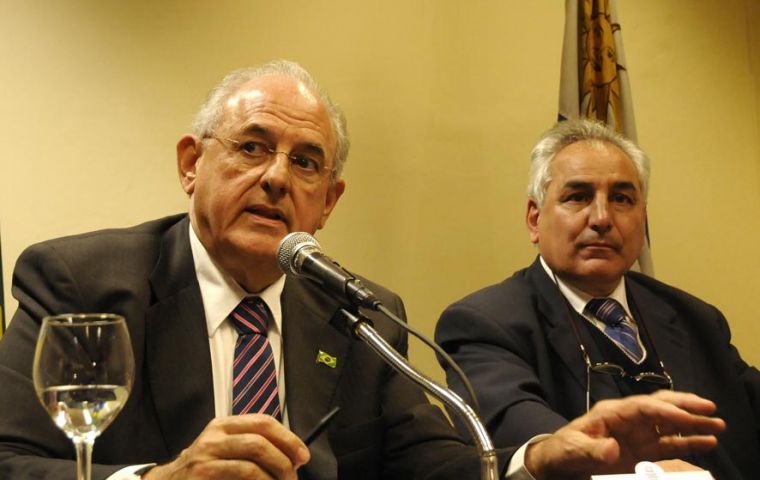 South America must recover its military dissuasive capacity so it can say 'no' when necessary said Brazilian Defence minister Nelson Jobim following a meeting this week in Montevideo with his Uruguayan counterpart Luis Rosadilla.
"There's no arms race. There is yes a struggle for capacity, which is important, for the South American sub-continent to have a dissuasive structure so it can say 'yes' to the world when it wants to say 'yes', but also the possibility of telling the world 'no' when it needs to say 'no'. And this is only possible with a dissuasive capacity", said Brazil's defence minister.
Jobim said that it was important to acknowledge that South America has the largest drinking water reserves in the world and "we also have a huge production of energy and food" and other resources which must be protected.
Uruguayan president Jose Mujica and the three commanders of Uruguay's forces joined the discussions between the two defence ministers and their advisors.
"These are all very important issues in modern world. And we must recover our dissuasive capacity and that is what we are doing", insisted Jobim.
The Brazilian minister said the issue will be addressed at the South American Defence Council which functions under the umbrella of Unasur (Union of South American Nations) "so that we can formulate a policy of defence identity for the region", as well as considering the "integration of defence industries, in such a way that the defence industry is also part of an inclusive economic development".
Jobim said the "great mistake" of South America and Brazil has been to shop for military hardware overseas and "not having developed our own arms here" so that the region can enjoy "autonomy" and is not a prisoner of outside suppliers.
"We must make one thing plain clear and that is that South America and Brazil will not be purchasing arms in the world's military hardware supermarkets. No, we must in the subcontinent with integration from other countries, develop the capacity to manufacture defence material and equipment", underlined the Brazilian defence minister.
Brazil is currently involved in a several-billion US dollars military hardware purchase program which includes submarines, one of them a nuclear powered submersible to be supplied by France with all the necessary technology, and the pending big order for 36 fighter-bombers which is under strong dispute between France's Dassalut, United States Boeing and Sweden's Saab-Grippen.
In this case Brazil is also demanding the aircrafts are partially assembled in Brazil and technology transfer is also involved.