Celso Amorim remembers Argentina that "Brazil is a huge market"
Saturday, May 29th 2010 - 07:04 UTC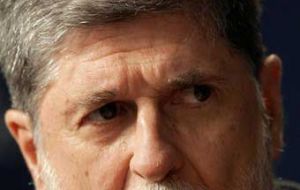 Brazilian Foreign Minister Celso Amorim was the latest high ranking official to complain about the limitations applied to bilateral trade with Argentina and said it was imperative for the country to understand that "Brazil is a huge market."
Amorim warned that a food import ban on Brazilian products "would have consequences". His warning comes in the framework of a meeting between presidents Lula da Silva and Cristina Kirchner to address the issue among other bilateral points.
"Rumour has it that several Argentine officials encouraged some supermarkets to purchase domestic products, which we are not fond of, for it will eventually lead to consequences" explained Amorim when addressing the bilateral trade conflict.
"It's imperative for Argentina to understand that Brazil is a huge market for them" Amorim then added.
However, the Foreign Minister stated that bilateral trade had experienced "an important boost" in the first quarter of 2010, which sent the numbers back to the position held before the 2008 financial crisis.