Chile: The new president appears to be doing pretty well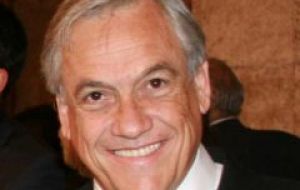 By David Gallagher
(Ed. Note: Gallagher, a columnist for the conservative daily El Mercurio, is a man of many parts. He's British and Chilean, former Oxford professor of Spanish and Russian, author of the classic Modern Latin American Literature (1973), economist, investment banker, international business consultant, and father to children living on three continents.
(In this column he remarks that the "previous government"—that is Michelle Bachelet's — "privileged imagery over reality." One example: to celebrate a significant date, Bachelet cut the ribbon on a new hospital empty of equipment but filled with patients who were actually actors and who pretended to be ill for the press.)
A couple of weeks ago, just back from a trip, I attended a talk by Cristóbal Lira (coordinator of the new inter-ministerial Committee on Emergency Management) on how the government was responding to the earthquake. What he said, modestly, I found impressive: the enormous logistical challenge of restoring essential goods and services; the mass production of emergency huts; the public-private partnership to repair damaged houses.
A whole range of achievements on many fronts indicated that the government has combined thorough initial analysis, with a lot of creative and pragmatic looking for solutions, with agility in implementing them.
I attributed my happy surprise to the fact of my absence from the country until I realized that everyone else was surprised. And these were well-informed people. Oh, ho! I felt I'd found a major flaw in the Sebastian Piñera government. It doesn't communicate well what it's doing, which produces a gap between performance and image. In a time of emergency like this, not communicating is serious because, when the rains come, the media will highlight only the inevitable cases in which government aid does not arrive in time or is inadequate.
Certainly we don't want an imitation of the previous government, which privileged imagery over reality. But we do want to know when things are done well. (Education Minister Joaquín) Lavín did a good job of crowing when he reached his goal (of having all Chile's children in school by April 27, the two-month anniversary of the earthquake and tsunami that destroyed thousands of schools). The other ministers have to do likewise; there is none, to my knowledge, who is not acting with great effectiveness, but the country doesn't always know this.
What is needed, I think, is not only to spell out the government's precise accomplishments but to give from time to time a pause for reflection that presents the overall plan, a vision of the country we want and a roadmap that shows the tasks yet to be done: a roadmap that takes us beyond 2014. I'd love for the administration to have a vision that looks 10 years in the future. I think Sebastian Piñera had it during the campaign, and I hope he's going to have it again.
The earthquake appears to have dampened his ambition. He said he does not want to be the earthquake president but a reconstruction one. Okay, but he can be much more than that. Does he want to limit himself leaving the country as it was before the earthquake? He was elected because the country needed radical change. It was a country that had lost its knack for economic growth. A country in which productivity – here's something unprecedented – was falling each year; a country that had accustomed itself to unsustainable increases in public spending; a country in which people, promised a society that would protect them, acted as if this meant they could abandon their responsibilities and nurture expectations beyond the economy's ability to meet them; a country whose progress towards first-world status was beginning to look like that of Zeno's arrow, which never reaches the target.
Piñera's Speech to the Incoming Legislature on May 21 was a great opportunity to outline long-term goals. Having them all at once gives an inspiring picture and avoid the contradictions and changes of opinion that still abound, like those surrounding accelerated depreciation (yes or no?) and the future (or not) of the government newspaper La Nation. A clearer road map will help the president and his ministers sing from the same hymnbook.
Fortunately, we have the ingredients for a history-making administration: the president's ability; the excellence of his ministers. Above all, the opportunity represented by having a president with the vision to build a new right in Chile: pragmatic, creative, and inclusive; a right with universal appeal.
Translation by Bill Stott – Santiago Times