Spain's debt downgraded; Madrid lowers growth estimates 2010/2012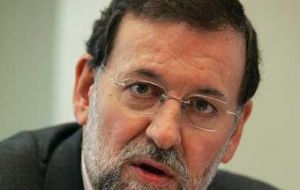 Risk rating agency Fitch downgraded Spain's sovereign debt on Friday one notch from AAA to AA+ with an outlook of stable, saying that the country's economic recovery is likely to be difficult and prolonged.
"The process of adjustment to a lower level of private sector and external indebtedness will materially reduce the rate of growth of the Spanish economy over the medium-term," Brian Coulton, Fitch's head of Europe, Middle East and Africa sovereign ratings, said in a statement.
While acknowledging that Spain's economic-stabilization program is underway, Fitch warned that the country's "inflexible" labour market and the process of restructuring regional and local savings banks will complicate the recovery process.
Standard & Poor's had previously downgraded Spain's debt from AA+ to AA with a negative outlook, citing a more protracted period of sluggish growth than initially expected.
Fitch's announcement came hours after Spain's Socialist government said it was lowering its growth forecast for the next few years and acknowledged that unemployment, already at almost 20%, will remain elevated until at least 2013.
Coming on the heels of Thursday's heated legislative session, when the government's unpopular austerity plan was approved in Parliament by a single vote, the forecasts unveiled Friday by the Cabinet heightened concerns surrounding Spain's ailing economy.
The approval of the austerity measures has led to a complete reassessment of Spain's macroeconomic outlook, with most economic indicators revised downward for the 2010-2013 period.
The projections unveiled Friday show that unemployment, Spaniards' biggest area of concern, will come in at 19.4% and that the jobless rate will be as high as 16.2% in 2013.
In addition, the Spanish economy is projected to grow more slowly over the next three years: at a rate of 1.3% in 2011, instead of 1.8%; 2.5% in 2012, compared with the earlier forecast of 2.9%; and 2.7% in 2013, down from 3.1%. Investment is not expected to begin growing again until 2012.
As part of its quest to get Spain's economic house in order, the government announced Friday that public spending next year will be capped at 122.26 billion Euros, 7.7% less than the initial ceiling for 2010.
Finance Minister Elena Salgado said that the budgets of the different government ministries will be reduced by 15% "or more" in 2011.
After Thursday's vote in the lower house, the main opposition conservative Popular Party demanded that Zapatero call early elections as an "act of responsibility."
Spain's next general elections are scheduled for 2012.
Fernandez de la Vega on Friday ruled out that possibility and noted that the Socialists won a second four-year mandate in 2008.
"We're doing what needs to be done, not what we'd like to do, and we're doing it because of our responsibility to (Spanish) citizens and the country," she said