US citizen who spent 15 years in Peruvian jail convicted for terrorism is released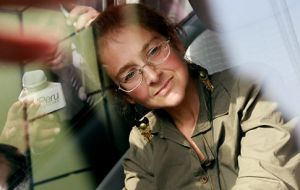 Lori Berenson, a US citizen who was convicted of terrorism and has spent the last 15 years in a Peruvian jail, has being released, according to Lima newspaper El Comercio.
The 40-year-old former New York City resident was accused in 1995 of being part of the Movimiento Revolucionario Tupac Amaru (the Tupac Amaru Revolutionary Movement, or MRTA), a terrorist group active in Peru in 1980s and '90s whose goals included using violence to build a Marxist state and get rid of all traces of imperialism in the country.
In 1989 Berenson left the US and anthropology studies at MIT to travel through Nicaragua, El Salvador and Panama. In Panama, she evidently made contact with the MRTA. She arrived in Lima in 1994, and was detained on Nov. 30, 1995 after she had entered the Peruvian congress with a false press pass alongside Nancy Gilvonio, wife of the now dead MRTA leader Nester Cerpa.
The two women wanted to obtain information to prepare an attack on the building. A MRTA plan to occupy Congress had been ruined the day before.
In 1996 a military tribunal sentenced Berenson to life imprisonment, but this sentence was overturned in 2000 in accordance with a resolution of the Inter-American Commission on Human Rights.
A year and a half later a new sentence of 20 years imprisonment was handed down. However, Berenson will be been released after serving only three quarters of her term.
She will not be able to return to the United States until 2020, as she has been released with conditional freedom. Even this release has been controversial, as a law was passed in October last year that revoked conditional freedom for those who have committed terrorism.
Although Berenson will have to remain in Peru, her family is still grateful for her release.
"This is a day I'll cherish for the rest of my life," her father, Mark Berenson, told the New York Times. "We've held hope for Lori's release for so many years."
Berenson was married in prison in 2003 to a Peruvian lawyer condemned for terrorism. Berenson had a child last year who has been living with her in the women's prison located in the Chorrillos district of Lima. According to Berenson's father, Lori and the lawyer have now separated.
Once released, Berenson has told the press that she hopes to work in translation and study baking.
By Alia Alhafny – Santiago Times