European weakened governments must address this week tough decisions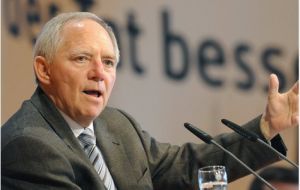 Budget Minister Francois Baroin indicated on Sunday that France should not take for granted its AAA rating, which allows Paris to borrow relatively cheaply on international markets and finance its big budget deficit.
"The objective of keeping the AAA rating is an objective that is a stretch, and it is an objective that, in fact, partly informs the economic policies we want to have," Baroin.
"We must maintain our AAA rating, reduce our debt to avoid being too dependent on the markets, and we must do this for the long term," he told Canal+ TV in an interview.
Baroin later clarified that the target was "a demanding (objective) which we're committed to."
France has forecast its deficit will hit 8% of GDP this year, but aims to bring it down to within the European Union's 3% limit by 2013.
Talks are under way on pension reform and Paris has frozen central government spending, barring pensions and interest payments, between 2011 and 2013. It is also considering a constitutional amendment to set binding budget deficit limits.
In Germany Finance Minister Wolfgang Schaeuble said over the weekend that Germans may have to stomach tax rises as well as spending cuts.
Chancellor Angela Merkel's government is considering raising value-added tax (VAT) to the full rate of 19% on certain items that currently benefit from a lower rate of 7%, according to press reports.
"If you abolish tax breaks, some will say that's a tax increase. At the end of the day, it's about having a sensible and balanced policy," Schaeuble told the Bild am Sonntag paper. "And let's bear in mind that cuts on social spending hit those in the country with less money".
Germany's budget deficit is expected to exceed 5% of GDP in 2010, modest by current EU standards but well above the bloc's 3% limit.
Meanwhile in Spain, the Socialist government of President Jose Luis Rodriguez Zapatero is battling to prove to nervous markets that the Euro zone's fourth largest economy will not go down the same path as Greece. But with political opposition growing at home, its ability to push through reforms, particularly labour and regional banking is limited.
Weekend opinion polls put Rodriguez Zapatero government far behind the opposition, and indicated that many voters believe he will have to call early elections as support for a 2011 austerity budget will be hard to muster.
This week the government, trade unions and business have a self imposed deadline to agree on labour reforms, aiming to cut unemployment and make the Spanish economy more competitive. Already a May 31 deadline has been pushed back a week. If the talks fail, the government says it will propose its own changes by June 11, risking a confrontation with the unions.
The unions, traditionally close to the Socialists, have said they will respond to any imposed reform with a general strike.