Argentina unable to lift Chinese ban on soy-oil imports in first round of talks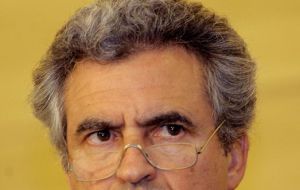 The Argentine trade mission sent to Beijing was unable to lift the ban on soy-oil imports imposed by China on Argentina. The Argentine delegation returned with the promise that further talks will be taking place but no dates were revealed.
"This is a long negotiation process: we were not expecting definitive decisions at the bilateral meeting", said Argentina's main negotiator Alfredo Chiaradía, International Economic Relations Secretary. He was accompanied to Beijing by Industry Secretary Eduardo Bianchi and Jorge Amaya, director or Senasa, food health and quality services.
Since last April China has ceased purchased of Argentine soy-oil in retaliation for anti-dumping restrictions to Chinese imports imposed by Argentina. However the formal excuse refers to sanitary reasons and residual percentages of certain by products in the oil from crushed soy beans.
The ban could mean significant losses for Argentina's oil market and for government revenues. The annual production of soy-oil is Argentina is four million tons of which China absorbs 1.87 million, according to the official statistics from 2009, which represent 46% of total production.
In 2009 China imported 2,3 million tons of soy oil of which 77% from Argentina, 21% Brazil and 2% the US. In the first quarter of this year Chinese soy oil imports dropped 70% and the origin proportions remained, meaning the negative impact for Argentina was 76%.
Furthermore Chinese soy crops have been good and the processing capacity has been dramatically increased according to oil industry sources, so the temporary spat with Argentina, even if later overcomes, could have long term implications.
The possible loss of the Chinese soy-oil market represents 600 million US dollars less revenue from export duties for the Argentine government.
China is forecasted to import 46 million metric tons of the soy this year on increased demand for vegetable oil and animal feed.
"The gain in China's meat consumption is closely related to its GDP growth" which is accelerating this year said Cao Zhi, director at the China National Grain & Oils Information Center. Soybean oil imports in 2009-2010 may tumble 40% to 1.5 million tons after the government banned shipments from Argentina, Cao said.
The US Department of Agriculture in May raised its China import estimate for the marketing year through Sept. 30 to 46 million tons from 43.5 million in April, and predicted 49 million tons for 2010-2011.
Shipments in June may reach a record 6 million tons after exceeding 5 million in May, the state-backed China National Grain & Oils Information Center has said.