Falkland Islands De-mining Pilot Project – Completion of Phase 1
Thursday, June 3rd 2010 - 20:44 UTC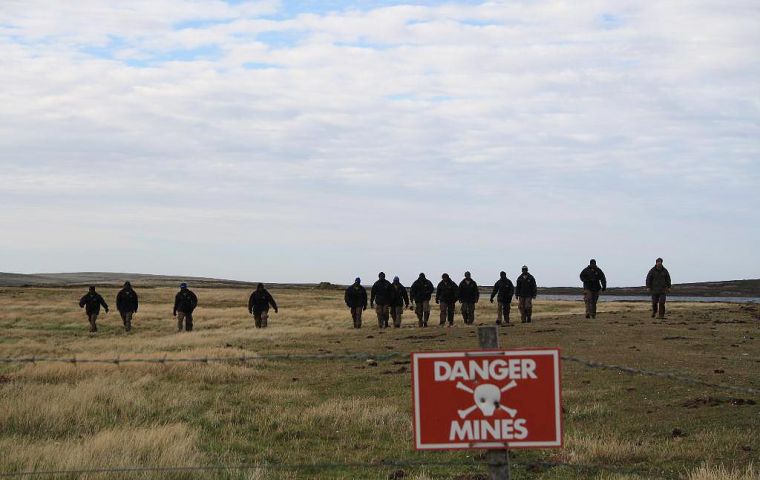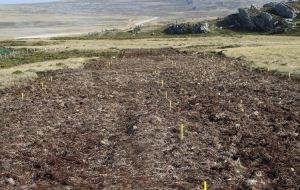 Completion of the Falkland Islands Programme phase 1 is now a reality. The De-mining Contractor, BACTEC International Ltd, has persevered through one of the coldest and wettest summers to deliver a successful project within the single austral summer period that was demanded within the contract. Like all demanding programmes, many lessons have been learned but only a few will be elaborated in this article.
There were four clearance tasks; two known minefields close to Stanley (Sapper Hill and Surf Bay) which both had detailed records and one Suspect Hazardous Area in each of the Goose Green and Fox Bay Camp areas. They were four very different tasks with very different terrain all chosen to inform future projects most effectively. The two known minefields presented the greatest challenges as expected and some of these were mentioned in a previous MercoPress article on 7 Feb 10. These challenges centred on the ability to detect the minimum metal mines, the tough terrain and the inclement weather.
The Sapper Hill minefield (~7900 sq m) took 77 gruelling days of full manual excavation to lift the 190 anti-personnel P4B mines laid there on a single day in May 1982. Of note is that these mines were laid in a very formal pattern in three rows which did make it easier to locate them and encouragingly the minefield plan was good. No mine was found deeper than 12 cm although 97% were at less than 8 cm. The task was exacerbated by the thick fibrous peat and surface vegetation that was difficult to cut and excavate and a very wet and cold summer.
After the cleared area was handed over to the De-mining Programme Office (DPO), it conducted an independent Quality Control Sampling activity in accordance with International and National Mine Action Standards (IMAS and NMAS) which confirmed the area was clear of mines and unexploded ordnance (UXO) to the contract depth. Finally a public confidence demonstration was conducted by BACTEC and the DPO on 25 Mar 10 and the Governor and Mr Colin Roberts of the Foreign and Commonwealth Office participated by walking across the cleared area.
The two Suspect Hazardous Areas in the Camps had two very different historical backgrounds and no formal plans or records existed for either. In Goose Green, the area had been cleared immediately after the conflict using information gained from prisoners who had laid the mines there and UK sketch plans existed of what had been lifted. However, a military vehicle had driven over an anti-vehicle mine on the promontory 6 weeks after the conflict had ended and the area was marked off as a minefield again. The task involved a detailed analysis of the available data and conducting what is known as a technical survey i.e. cutting survey lanes throughout the area to prove that no further mines existed. Because it was also the site of a cluster munitions strike by UK forces, a sub surface search for BL 755 sub-munitions was conducted. No mines or UXO were located and the area was declared safe after 21 days of search and following Quality Control sampling. A low key public confidence demonstration took place on 17 Mar 10 which was well attended and appreciated by the Goose Green community.
The Fox Bay area had never been a minefield. It was marked off a year after the conflict suspected of containing unexploded BL 755 sub-munitions and possibly washed up mines on the shoreline. As well as conducting a complete clearance of the Suspect Hazardous Area, a number of technical surveys were carried out on the whole Fox Bay East headland to check if any signs remained of the cluster munitions strike. No BL 755 sub-munitions were located confirming that the UK forces had already done a thorough clearance after the conflict.
By far the most complex and difficult task was the minefield at Surf Bay. This was known to contain over 1000 landmines; a mixture of anti-vehicle (SB81) and anti-personnel (SB33) mines. For a relatively small area (~32,500 sq m), this was a very high density of mines. The area can be divided into 3 separate types of terrain; peat, shallow sand and deep sand dunes. As at Sapper Hill, the mines were laid in formal patterns with a different number of rows from 2 to 6 and the plans were easy to follow using interpretation and experience. The same challenges existed here as for Sapper Hill but there were additional ones as well. The first was that in the shallow sand area, some of the mines were up to 40 cm deep because of build up of sand over the years. In the dunes, mines were found at the 1982 profile and this required using an armoured mechanical excavator to locate them at up to 4 metres deep. Some of these latter mines were difficult to find at that depth but once the first evidence of each row was located, the pattern of mines became evident. This became much more of a civil engineering operation to process large quantities of sand to separate the threat from the surrounding material. In very deep sand it is easy to get disorientated between what has been cleared and what has not been cleared. Therefore detailed survey became a key component of the systematic search to ensure detailed distances and depths were recorded. Normal quality control sampling was conducted following operations at Surf Bay and where the random sample boxes were located on deep sand, the mechanical excavator was used to carry out the sampling.
Concerns about the environmental impacts of the project were a constant factor throughout the project. A broad plan was developed to satisfy the planning conditions associated with the consent provided by the Environmental Planning Department. This consisted of dividing the cleared areas broadly into three parts; one part being left to recover naturally; one part having the cut vegetation replaced so that seeds from the cuttings drop and germinate; and a further area is to be left for a different approach to be specified and agreed later by the Environmental Planning Department using natural and introduced methods. Rebuilding the sand dunes like a "Hollywood" set was never an aspiration but in close cooperation with the Environmental Planning Department, BACTEC replaced the sand as well as they possibly could stabilising the base of the dunes where possible using geo-textiles and aggregate bags. The area was left deliberately unsmooth in order to provide relief for natural forces to work on and to catch drifting seeds for germination purposes. Monitoring will take place over the next two years to establish which is the most effective approach for future programmes but not only does it need to be environmentally acceptable, it needs to be a practical, relatively simple and a cost effective procedure. This has been an interesting, but additional factor to be considered for this specific Mine Action programme but it will continue to be a key feature throughout future programmes on the Falkland Islands.
The Surf Bay minefield was completed on 4th June 2010 following a public confidence demonstration after 146 days of detailed, painstaking work in difficult conditions. Locating the last mines in the sand dunes was always going to be challenging and given the very cold and wet weather this summer, BACTEC did well to complete the project within the single austral summer they were allocated. In very broad terms the four simple lessons learned were: 1. The weather is always unpredictable in the Falkland Islands even in summer. 2. The terrain is tough and unforgiving for both manual and mechanical de-mining. 3. Further research and development is necessary to manually detect minimum metal mines more easily. 4. Where mines are laid in coastal sand, they will be found at much greater depths due to the build up of sand over the years.
Now this pilot phase is complete, the UK Government will have a much better understanding about the challenges of the remaining mined areas (approximately 113). This phase of the clearance will have reduced the number of mines buried in the Falkland Islands by 5% but in terms of area cleared it is a very small percentage. However, it will definitely be able to inform future projects about the technical, environmental and logistic challenges associated with clearance in the Falkland Islands and provide more accurate planning data for follow-on phases.

By Robin Swanson – Programme Manager, Demining Programme Office - Stanley