Kirchner makes his international debut as Unasur chair in Paraguay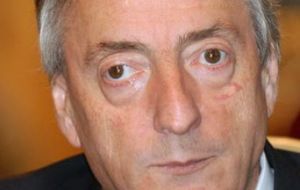 Former Argentine president Néstor Kirchner met Wednesday with Paraguayan President Fernando Lugo and other Congressional and political leaders in Asunción in what became his first official meeting as head of the South American Nations Union (UNASUR).
"The political endeavour of Unasur is the will of Latinamerican peoples, no exclusions, no partisanship", said Kirchner following his meeting in the Paraguayan congress with the Foreign Affairs commissions from both houses.
"Unasur will promote and advance integration and will do many things to contemplate all the different positions in the region", promised Kirchner.
Earlier in the day Kirchner met with President Lugo and discussed strengthening Unasur, (since several countries still have to approve the group's charter) and other integration issues such as Mercosur.
"Much of what I talked with President Lugo did not differ from what we discussed here in Congress today", said Kirchner adding that they are "the same concerns, with the same generosity and the same determination to go ahead with Unasur".
When asked about his double condition of member of the Argentine Lower House and Unasur secretary general, much criticized by the Argentine opposition, the former president said "there's no interference, and besides I feel young and I like to work".
He also said he was a convinced believer "in absolute freedom of expression, freedom of the press, but not in the concentration of the media, be it in the hands of government or in private hands". He added "everybody must be able to express themselves, communities, social organizations, the people" and recalled the recent report from the Human Rights Inter-American Court praising freedom of the press in Argentina and Uruguay.
Regarding Mercosur Kirchner said that he strongly favours the incorporation of Venezuela but "the issue must not be personalized; Venezuela's membership will give us a greater dimension, a greater energy potential at global level". However he pointed out it was his own personal opinion since "I'm not entitled to talk about Mercosur affairs. I was only replying a question on the issue".
But he underlined he was convinced and hopeful Unasur "will help give fresh air to Mercosur, so it can keep growing and consolidating".
Kirchner arrived in Paraguay after cancelling a trip to a Unasur summit in the Dominican Republic that would involve discussions on economic aid for Haiti.
According to sources, Kirchner decided not to attend the summit due to the presence of Porfirio Lobo, current President of Honduras, who came into power by means of an election carried out after the country's institutional crisis that began after a military coup ousted President Manuel Zelaya.
The Santo Domingo Haiti summit was supposed to bring together the president of that country René Preval, the special UN representative for Haiti former president Bill Clinton and several other South American leaders including Colombia's Alvaro Uribe. But those who joined Kirchner by staying away included Venezuela's Hugo Chavez and Ecuador's Rafael Correa.