Spanish unemployment slightly down at start of summer season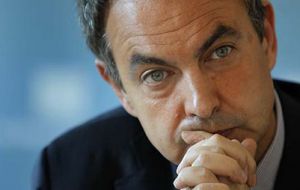 Spanish registered unemployment declined for a second month in May as the start of the tourist season spurred hiring. The number of people registering for unemployment benefits fell by 76,223, or 1.84%, from April to 4.07 million, the Labor Ministry said Wednesday.
Spain emerged from an almost two-year recession in the first quarter with an unemployment rate of 20%, the highest in the Euro region. In an attempt to bring down the jobless rate, which has more than doubled in two years, the government is planning an overhaul of labor-market rules by the end of this month.
Spanish labour organisations dismissed the unemployed number as irrelevant.
"The fall is similar to that seen last year from May and during the holiday months and after two months of falls, it looks like this year will follow the same trend" Spain's largest union Comisiones Obreras said in a statement.
The Labour Ministry figures still showed joblessness to be more than 12% above that recorded one year ago and more than double the level registered in May 2007.
The government, which is in the final stages of talks on labour market reforms with the unions and business representatives, cautiously welcomed May's joblessness data, saying it showed job destruction continued to slow.
Spanish Prime Minister Jose Luis Rodriguez Zapatero said the government's version of reforms would be presented on June 16, whether unions agree to them or not.
The country's two largest unions have called a June 8 strike for civil servants in protest at wage cuts and have said they may call a general strike if labour market reforms, currently under discussion, affect workers' rights.
Industrial unrest will make life even more difficult for Rodriguez Zapatero, who is already struggling to push major legislation through parliament and trails the conservative opposition in opinion polls.
A government austerity plan to cut 15 billion Euros from spending this and next yar came close to being rejected by parliament last month sparking talk of early elections. Fitch cut Spain's debt rating by one notch to AA-plus with a stable outlook late on Friday.
Spanish unemployment rates have always been high, dropping to just over 7% at the height of the construction boom and a reform is critical to overturn an uncompetitive and unproductive system, economists say.