Falkland Islands love to drink wine according to California's Wine Institute
Friday, June 4th 2010 - 03:26 UTC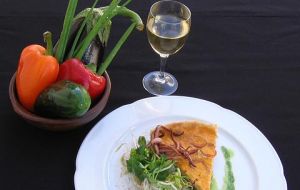 The Falkland Islands figure among the world top ten per capita wine consumption countries according to the Wine Institute (2008), which brings together all of California's wineries and vineyards and manages a vast inventory of statistics with commercial purposes.
Strangely enough top of the list in the last four years (2004/2008) figures the Vatican whose 932 residents (no word about the Pope's favourite) according to the latest census consumed an average of 66 litres of wine per capita.
Another oddity are the 1.800 residents of the Norfolk islands in the Pacific Ocean which figure with a higher consumption than those more traditional Mediterranean wine producing countries such as Spain or even the newly arrived but very efficient wineries from Australia (23 litres) and New Zealand (22 litres).-
Similarly with the Falkland Islands, that figures with a per capita consumption of 42 litres, well ahead of Spain with 33 litres, Argentina with 27 litres, Uruguay with 25, UK with 19 and Chile with 17 litres.
The top ten ranked are: Vatican; Norfolk islands; France, Luxembourg; Andorra, Italy, Portugal, Slovenia, Falkland Islands and Croatia.
Another curious fact is that at least twenty countries figure with virtually zero wine consumption (North Korea), and that the country with greatest taste-for-wine expansion in the last four yeas has been Nigeria (1.200%), Macao (690%). Meantime consumption in Argentina has dropped 3.7%.
More specifically the 2.967 Falklands' residents figure with the following per capita consumption pattern: 2004 (25.61 litres); 2005 (14.30 litres); 2006 (50.76 litres); 2007 (60.41 litres) and 2008 (41.99 litres) with an increase of 63.9% in the period analyzed.