Argentina's commercial hake fishery has "two years left"
Saturday, June 5th 2010 - 05:10 UTC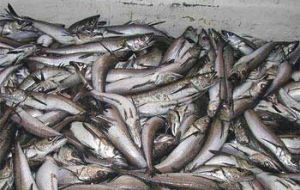 Over the last 20 years abundance of common hake (Merluccius hubbsi) has declined 80% in the Southwest Atlantic as a result of over-fishing, claims Argentina's Fundación Vida Silvestre, Wild Life Foundation, (FVSA).
The NGO also warns that currently 61% of hake catches is Argentina are made up of juveniles, a trend that if allowed to continue would lead to the collapse of the fishery in less than two years times.
For this reason, FVSA has launched a campaign urging Argentine consumers to only buy hake fillets of more than 25 centimetres in length.
FVSA also is critical of the latest measures announced by the Argentine government and the lack of control over the fleet targeting shrimp (Pleoticus muelleri), which discards hundreds of tons of juvenile hake during that activity in the South Atlantic.
"Boats that catch shrimp in the San Jorge gulf annually discard between 40,000 and 50,000 tons of hake which do not appear in the statistics" underlines Guillermo Cañete, coordinator of the Marine Programme and a FVSA fisheries scientist.
"Fishing specimens that do not reach 34 centimetres in length are a phenomenal waste of biological production and reproductive capital" stresses Cañete.
As to the future and the outlook for the industry, Cañete anticipates that "fish are not going to disappear, but rather the fishermen, because if the resource descends beyond a certain level, the activity simply turns non profitable" points out FVSA expert.
Hake which is Argentina's main seafood resource represented 40% of total seafood landings in 2007, a third of the country's exports and 60% of the industry's jobs.
FVSA statements are supported by reports from Argentina's National Institute for Fisheries Research and Development, (INIDEP) which show that last year catch totals revealed worrisome figures: 61% of hake landings were juveniles and only 39% adults.
"Current business is based on juveniles. We cannot catch more fish than those that renew every year and less still if they do not have time to reproduce, simply because the biomass capital in the water declines and finally runs out. If those fish are left in the sea for another year, they double weight, which represents an additional 70 million USD in revenue. The fishing industry and fishermen should be the first to understand that if there are no fish, there is no money" underlined Cañete.
"We need a hake recovery plan, an emergency plan to help consolidate the entire seafood sector and a new model of fishery management that promotes fishing development and conservation. Obviously, some of the decisions that must be taken will have an impact on industry, but it is preferable to fish 30% less and not a 100% in just two years at the most", stressed Cañete.
Meanwhile, the Argentine Fisheries and Aquaculture Secretariat revealed that 92.418 tons of hake were landed between 1 January and 28 May in Argentine ports. This represents a drop of 21.3% compared to the same period a year ago with 117.920 tons.
Of total landings this year, 84.523 tons were captured south of parallel 41° and 7.895 tons to the north. (FIS/MP).-