US government says there's no arms race in the Americas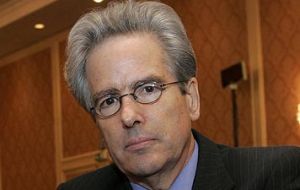 The US government does not consider that there's an arms race in the Americas and estimates the majority of countries invest more on social areas than in military hardware said Assistant US Secretary of State for Hemispheric affairs, Arturo Valenzuela.
"United States does not consider the hemisphere is suffering from an arms race, on the contrary, if we look at recent data most countries have significantly cut military budgets and increased social spending", indicated Valenzuela.
Regarding the very few countries that effectively have increased military spending, Valenzuela said he "did not have the information at hand".
"All countries had the right to purchase and modernize their equipment. That we understand and we support", he said.
"The Americas have fewer possibilities of armed conflicts among country members than other regions in the world and this we value in extreme".
Valenzuela make the comments in anticipation of Secretary of State Hillary Clinton's trip next Sunday to Lima, Peru, for the two-day Organization of American States, OAS, general assembly which will be meeting under the theme "Peace, Security, and Cooperation in the Americas".
"A theme that is really very important to the interests of United States and of course to the entire region", said Valenzuela.
From Peru Mrs. Clinton will be travelling to Ecuador, Colombia and Barbados.
On arrival in Lima on Sunday Mrs Clinton is scheduled to meet with Peruvian president Alan Garcia, who recently was at the White House with President Barak Obama. Garcia is a strong advocate of further cutting military spending in Latinamerica.
On Tuesday Mrs, Clinton will be meeting with Ecuadorian president Rafael Correa and will give a conference of the US vision for the Americas. Ecuador currently holds the Unasur (Union of South American Nations) rotating chair.
On Wednesday in Colombia the Secretary of State is scheduled to meet President Alvaro Uribe and the two main contenders for the job next June 20, Juan Manuel Santos and Antanas Mockus.
The last stop is in Barbados where she will address the issue of security with representatives from Caricom, Caribbean Community, following the recent clashes in Jamaica between law enforcement officers and gangs from drug lords (one of them to be extradited to the US) which left dozens killed in Kingston.