Female pilot breaks sound barrier in Chile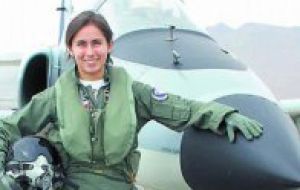 Flying at 20,000 feet above ground, Karina Miranda became the first Chilean woman pilot to break the sound barrier since it was first broken by a Chilean in the 1970s.
Miranda, one of the four students of the Aviation Group 12th Air Force, said, "It is a new experience, because I never had the opportunity to fly at that speed, so I am happy." According to Miranda, "It is a moment where you don't feel anything physical, but one looks at the speedometer on the plane and you say, 'Wow, I'm really going fast.'"
Commander Sergio Romero, in charge of Lt. Miranda's group, says Miranda was the first Chilean woman to pilot an F-5, which with the F-16 are the two planes on the "front line." To control these types of planes, the Commander emphasized the need for many hours of training, adding that "the Lt. Miranda has those years of experience."
Lt. Miranda was born and raised in Puerto Montt. She applied to the Chilean Air Force when she was 17 and was accepted, becoming the first Chilean female war pilot. She first became interested in flying when her grandfather asked her to accompany him on a trip. "From then on, I was hooked," she said.
By Laura French – Santiago Times