OAS assembly gives full support to Argentina's Malvinas claim
Wednesday, June 9th 2010 - 01:32 UTC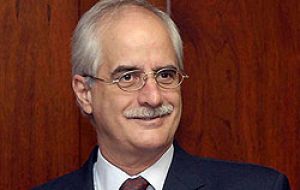 The Organization of American States (OAS) ratified support of the Argentine demand to seek dialogue with the United Kingdom in order to find a peaceful and definitive solution to the 'colonialism situation' of the Malvinas Islands, South Georgia, and South Sandwich and the surrounding maritime areas.
A declaration presented by Brazil was approved by acclamation in the fortieth OAS General Assembly, which ended Tuesday in Lima, Peru.
The representatives from Brazil, Guatemala, Mexico, Chile, Nicaragua, Panama, Peru, Paraguay, Colombia, Ecuador, Bolivia, Granada, Costa Rica, Venezuela, Dominican Republic, El Salvador, and Uruguay gave their word to make their support explicit.
In each intervention, as well as in the declaration on the subject, the Latinamerican countries expressed their complacency for the Argentine decision to continue seeking a peaceful solution, and they gave full support to the South American country, which faces an "anachronistic" situation.
The Argentine Foreign Affairs Minister Jorge Taiana thanked his colleagues for their solidarity and reiterated his claim to the United Kingdom to initiate conversations "based on good will."
Taiana also expressed rejection of the "unilateral and illegal acts" of the UK in the Malvinas and in the surrounding areas, in reference to the exploitation of hydrocarbons and other resources, and said that his country requires the support of the OAS to continue seeking a "peaceful, just, and definitive" solution on the Malvinas issue.
However Washington did not adhere or vote the OAS resolution. Under Secretary of State for Hemispheric Affairs Arturo Valenzuela said that the US position on the issue is that it's a bilateral issue between Argentina and Britain.