Argentina ratifies adhesion to Unasur following unanimous vote in Congress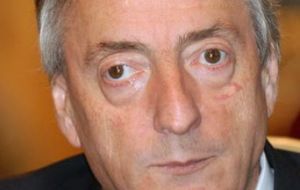 Argentina ratified this week the adhesion to the South American Nations Union (Unasur) Treaty, following a unanimous vote in the Lower House of Congress. The Senate had already approved the initiative.
The treaty counted with the support of 176 lawmakers that were present in the session and all the parliamentary blocs coincided in the importance of ratifying the creation of Unasur, integrated by South America's twelve countries.
Unasur recently chose former Argentine president Néstor Kirchner as Secretary General and his spokesmen recently commented that an office is prepared in downtown Buenos Aires City, so that the General Secretariat may have its own space.
Deputy Agustín Rossi, president of the pro-government Victory Front caucus, said during the debate that "it's clearly important that all blocs ratify this treaty" and he highlighted that it is "a pride" that Néstor Kirchner hold the organism's post of Executive Secretariat, as he predicted that it would be "managed with excellence."
The dissident Peronist Deputy and President of the Foreign Affairs commission, Alfredo Atanasof also highlighted the creation of Unasur "in this context of globalization, in order to be stronger in the exchange."
Unasur "is fundamental for regionalization, with important and transcendent South American foreign affairs policies," Atanasof added.
Ricardo Alfonsín, son of former president Raúl Alfonsín, who signed with his Brazilian colleague José Sarney the founding act of Mercosur, added that "the effort that is being carried out since democracy was recovered has to be completed in order to deepen the integration of Mercosur."
"We worked towards a unanimous approval, something that many times the people have claimed for, due to the necessity of putting aside our differences regarding core issues and government policies in order to see what is fundamental," Carlos Heller, deputy for centre-left Nuevo Encuentro Popular y Social, said.
Deputy Eduardo Macause, of the centre-left bloc SI, highlighted that "if I could, I would vote in favour of this initiative with both hands," and he urged "all blocs and all factions to vote unanimously," as it later occurred.