Chile sues banks that cooperated in hiding Pinochet ill-gotten fortune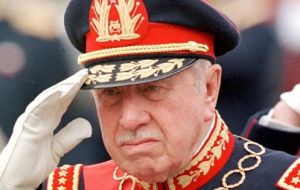 The widow of (deceased) former Chilean dictator Augusto Pinochet, Lucia Hiriart; the dictator's private secretary, Monica Ananias; and his executor, Oscar Aitken, were summoned this week to a Santiago criminal court pursuant to a warrant from the Southern District Court of Florida, United States.
Also summoned was former President Patricio Aylwin who was Chile's first elected president following the 17-year military dictatorship.
The Florida court is handling lawsuits that Chilean tax authorities filed against Espirito Santo Bank, Banco Santander and PNC Financial Services Group Inc. (formerly Riggs Bank) for the alleged concealment of the Pinochet family fortune.
The former dictator's salary and other legal income only account for 10 percent of his amassed wealth.
The witnesses were to testify in the Chilean court on the facts of the suit, to gain evidence for a trial in the U.S. against the Espirito Santo bank begun in mid-2009.
However, on Monday both the Espirito Santo bank and the State Defence Council (CDE), which represents the nation's legal interests, filed a stay of proceedings before the U.S. justice system because there was insufficient time to incorporate the testimonies of the Chilean witnesses in the U.S. trial.
In response to that filing, the law firm representing Pinochet's widow requested that the local criminal court stop collecting evidence and testimonies, hoping that the CDE and bank will call it quits.
A recent analysis by the University of Chile estimated Pinochet's assets at 21 million US dollars of which 19 million cannot be legally explained. This contrasts to a survey commissioned by the family that estimated Pinochet's wealth at 7.4 million USD.
The Chilean Supreme Court began investigations into this issue in November 2007 by interrogating family members and former collaborators. Those investigations, however, were put on hold after the Court decided that more evidence about the Pinochet financial situation was needed. This led to the Universidad de Chile analysis of the former dictator's finances.
By Andrew Dornon – Santiago Times