China's exports soar 48.5% in May, the highest in more than six years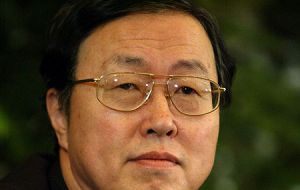 China's exports jumped 48.5% in May from a year earlier, the biggest gain in more than six years. However the impact of the European crisis is still to be seen following on this week's IMF warning that global economic risks have risen significantly.
China has so far retained a crisis policy of pegging the Yuan to the US dollar, resulting in a 20% gain against the Euro this year.
The Shanghai Composite Index declined 0.8% after the trade data and a report showing property prices rose at the second-fastest pace on record last month. Stocks jumped the most in more than two weeks Wednesday on a Reuters report indicating the size of May's increase in exports and also larger growth in new loans than expected.
However export numbers were flattered by the comparison with May 2009, when shipments fell by a record 26.4%. Exports rose to 131.76 billion last month, the highest value since September 2008, and imports totaled 112.23 billion. The trade surplus was the biggest in seven months.
Shipments to the European Union jumped 50% from a year earlier, compared with 29% in April. Those to the US climbed 44%, up from 19%.
Since July 2008, the Chinese currency has been held by officials around 6.83 per dollar, after Premier Wen Jiabao's government allowed a 21% advance in the prior three years. The policy helped exporters weather last year's contraction in global trade while spurring criticism abroad that China is giving its companies an unfair subsidy.
Gains against the Euro may hurt China's shipments in three months' time said Lu Zhengwei, a Shanghai-based economist at Industrial Bank Co. Lu estimated South Korea, one of China's competitors in global trade, may already be benefiting from the Won's smaller 10% appreciation.
"Exports to Europe, China's No. 1 market, may decelerate to single-digit growth later this year if the government maintains the Yuan peg," Lu said. Such a pace would compare with the 28% increase in shipments to the EU in April from a year earlier.
Chinese central bank governor Zhou Xiaochuan said June 4 that the nation's manufacturers may be yet to feel the impact of Europe's problems.
"The Chinese government needs to maintain flexibility in its policy" because a bigger crisis in Europe would affect one of China's main export markets and might crimp investment inflows, Justin Lin, chief economist at the World Bank, said at a press briefing telecast from Washington. "If there's some kind of downturn in the external environment, certainly the Chinese government can speed up its stimulus and support Investments."
May's figures contrast with March, when China posted its first trade deficit in six years as imports surged, outpacing export growth by 42%. Imports will continue to decelerate on falling commodity costs and a slowdown in domestic investment growth, according to Bank of America-Merrill Lynch.
In related news China plans to force brokerages to raise the fees they charge for trading in stock index futures to curb speculation, according to an official at the China Financial Futures Exchange.
China's CSI 300 Index has fallen 18% since April 16, when the country introduced index futures, allowing investors to profit from stock market declines. The country is preparing to let qualified foreign institutional investors, or QFIIs, start investing in index futures.
Futures brokerages have slashed fees to lure more clients to trade in the securities, the official said. The Futures Exchange is considering imposing a minimum fee of 1 Yuan for each 10,000 Yuan ($1,464) contract. The bourse currently charges brokerages 0.5 Yuan per 10,000 Yuan contract.