Chilean Senators want International Whaling Commissioner ousted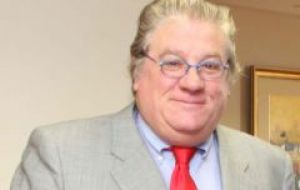 Chilean senators Juan Pablo Letelier and Guido Girardi met this week with the Undersecretary of Foreign Affairs, Fernando Schmidt, to plead the removal of Chilean Cristián Maquieira from his position as chairman of the International Whaling Commission.
The senators, echoing concerns voiced by numerous environmental groups, said Maquieira supports a new international whaling agreement that gives the colour of legitimacy whale killing quotas.
Such quotas are "absolutely contrary to what Chile has always stood for, and are regressive for international attempts to uphold whale populations by prohibiting unchecked whaling," said Sen. Letelier.
Letelier insisted that he was not advocating an "extremist ecological agenda," but was simply trying to spark awareness that "the human species lives on a planet in which we are dependent on our environment. We have a responsibility to maintain the ocean ecosystem that covers 70% of the Earth".
"Chile has a long-established stance against the killing of whales," said Girardi. "We concluded long ago that it's a serious ecological crime against humanity and it is totally unacceptable,"
Earlier this year, the IWC announced a new proposal to grant whaling quotas to countries in the organization. It will be further discussed and voted on during the next IWC meeting from June 21-25 in Morocco. The new proposal would replace the 25-year moratorium on whaling with quotas for allowed hunting, asserting that this would help lessen the ongoing illegal hunting presenting being done by some countries such as Norway, Iceland and Japan.

By Aaron Cantu – Santiago Times