Spanish group Viajes Marsans (former owners of Aerolineas Argentinas) sold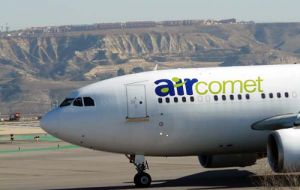 Spanish travel company Viajes Marsans S.A., the parent company of bankrupt airline Air Comet, has been sold to Posibilitum Business for 600 million euros (720 million USD), the parties to the deal said this week.
The now-former owners, Gerardo Diaz Ferran and Gonzalo Pascual, said the sale would resolve some of the claims brought against the company for the Air Comet bankruptcy and ease the reorganization of Grupo Marsans.
Posibilitum, a turnaround specialist, acquired 100% of Viajes Marsans and full or partial stakes in more than 50 related firms, including the Hotetur hotel chain and airport services company Newco.
The new owner says it plans to sell assets, streamline operations and cut costs to return Viajes Marsans to profitability as quickly as possible.
The troubles of Diaz Ferran and Pascual began in 2008, when Argentina seized formerly state-owned Aerolineas Argentinas from Marsans, and grew worse last December with a British court's decision to order Air Comet shut down due to massive debts.
A budget carrier founded in 1996, Air Comet offered regularly scheduled service from Madrid to Latin American destinations such as Buenos Aires, Lima, Quito, Bogota, Havana and Cancun, Mexico. The airline's collapse during the holiday travel season left thousands of passengers stranded.