Mrs. Clinton promises to sponsor US/Colombia trade agreement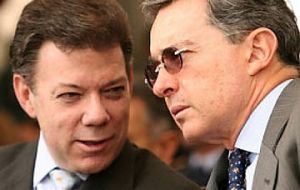 US Secretary of State Hillary Clinton promised this week after meeting with Colombian president Alvaro Uribe that when she returns to Washington she will begin "a very intensive effort to try to obtain the votes to get the free trade agreement with Colombia finally ratified".
A proposed US-Colombia free trade agreement is currently stalled in Congress as lawmakers worry it could cost US jobs, despite President Obama's assurances to the contrary. The deal was negotiated under Obama's predecessor, George W. Bush. There is also concern that Colombian security forces have allegedly abused human rights.
Mrs. Clinton described Colombia as a reliable close ally of the US and promised Washington will continue as "a strong partner" of Colombia in the struggle against guerrillas and narco-traffickers.
"United States will continue to support the Colombian people, the Colombian military, and their government in the ongoing struggle against the insurgents, the guerrillas, the narco-traffickers who would wish to turn the clock back," she said.
Mrs Clinton added that bi-partisan US congressional support for the so-called Plan Colombia "has been an essential part of the success the Colombian people and this government have achieved" in dealing with security threats. The plan is "fully embraced" by Obama, she added.
Plan Colombia was launched in 2000 as an emergency package worth 1.3 US dollars to curb trafficking, as Colombia faced down drug-backed insurgent groups who held control of almost a quarter of the country's territory. Since then the US has provided billions of dollars in military aid to Colombia to fund crop eradication and fight cartels as well as drug-running paramilitary and rebel groups.
Next June 20 Colombia faces a presidential run-off between the two most voted candidates and Secretary of State Clinton said she was sure that "whoever wins in the second round Washington will continue to be a strong ally and supporter of Colombia".-
"We are certain and have full confidence that the commitments and understandings with the current Colombian government will have continuity", said Mrs. Clinton. In the first round at the end of May 30, former Defence minister and close ally of President Uribe, Juan Manuel Santos garnered 46.6% of the vote, double its rival's 21.5%, the mathematician and former Bogotá mayor Antanas Mockus. Mrs. Clinton had private meetings with both hopefuls.
Mrs. Clinton currently on a South America and Caribbean tour was accompanied in Bogotá by her husband former president Bill Clinton who praised Colombian democracy and Colombian president Uribe for having complied with the country's constitutional court banning from running for a third consecutive mandate.