Former Swiss leader next UN General Assembly president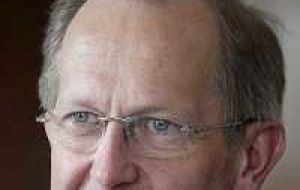 After two presidents who irritated Israel and the United States, the UN General Assembly elected a leader unlikely to ruffle Western feathers -- Joseph Deiss, a former president of Switzerland.
The post of President of the General Assembly has little real power but a high profile in chairing the annual September gathering of world leaders in New York. He or she also represents the 192-nation body on foreign tours.
Deiss, 64, will assume the year-long job in mid-September, shortly before this year's General Assembly summit.
He follows two men both noted for their strong views on the Middle East -- one-time Nicaraguan Foreign Minister Miguel D'Escoto, who held the post from 2008-09, and the current president, Ali Treki of Libya.
D'Escoto won headlines by accusing the United States of "demonizing" Iranian President Mahmoud Ahmadinejad and Israel of practicing apartheid-style racial separation against Palestinians.
Treki has maintained a lower profile, but last month accused Israel of "inhuman and totally unacceptable aggression" by storming a Turkish aid ship that was trying to run the Israeli blockade of Gaza.
The General Assembly job rotates between geographic areas. This year it is the turn of a group known as Western Europe and Others. The group chose Deiss last year in preference to former European Union Commissioner Louis Michel of Belgium, so Friday's election by the Assembly was a formality.
Deiss, who began his career as an economics professor before going into politics with the Christian Democratic People's Party, served as Swiss President in 2004.
Earlier, as foreign minister, he worked to persuade the Swiss to join the United Nations, something they had resisted doing despite having long hosted the UN European headquarters in Geneva. The Alpine state joined the world body in 2002.
In a speech of acceptance, Deiss suggested the founding principles of Switzerland -- a confederation of 26 member states that has four official languages -- could also guide the United Nations.
His country's prosperity, he said, was the result of the solidarity of its member states "and of their determination to accept their differences and to live together."