Greek debt downgraded to "junk"; IMF, EU audit finances and budget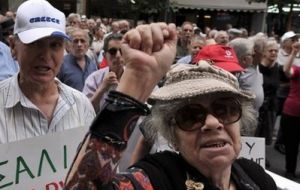 Greek government bonds have been downgraded four notches to "junk" status from A3 to Ba1 by Moody's credit rating agency. The agency said Monday there was still "considerable uncertainty" surrounding the impact of measures introduced to cut the country's high budget deficit.
"This uncertainty represents a risk that leads Moody's to believe that Greece's creditworthiness is now consistent with a Ba1 rating, a rating which incorporates a greater, albeit, low risk of default," Moody's said.
Athens swiftly rejected the Moody's cut, saying the government had taken major steps to balance its books.
"This downgrading in no way does not reflect the progress we have made in the last few months nor the opportunities opened by our budgetary stabilisation and the improvement of our country's competitiveness," the Greek finance ministry said.
It said its budgetary measures "showed very clearly" that Greece was meeting the requirements of the EU and IMF, which have together provided Athens with a 110 billion Euro bailout over three years.
The downgrade means some investors will no longer be allowed to buy Greek debt under the terms of their investment mandate and could lead to still higher borrowing costs for Athens if it goes to the markets for cash.
Bond markets saw yields - the rate of return - move higher on Monday, with the benchmark Greek 10-year bond at 8.302%, continuing well above its Euro zone peers such as Germany, at 2.635%.
Moody's cut Greece's sovereign rating by one notch from A2 to A3 on April 22, warning then that a review might lead to another reduction.
The decision came as the IMF, European Union and European Central Bank auditors in Athens began taking a hard look at the Greek budget to assess the impact of draconian spending cuts the government says are bearing fruit even as unions plan new protests. The experts were sent under the terms of the bailout.
Sarah Carlson, Moody's lead analyst for Greece, said the package "effectively eliminates any near-term risk" of a default and was likely to prompt effective structural reforms.
Fitch, the other major international ratings agency, warned in late May that it might cut Greece to junk status because its debt was still likely to soar to 150% of GDP despite the bailout deal.
Euro zone member Greece was supposed to have kept debt to 60% of GDP and its public deficit to 3% compared with nearly 14% last year, but lax controls saw those limits set by the wayside.
As part of the conditions for the EU-IMF aid, Athens agreed to stinging spending cuts and higher taxes in an effort to restore the public finances to health, with the public deficit supposed to be below 3% by 2014.
S&P cut Greece's credit rating to non-investment grade on April 27, the first time a Euro member lost its investment-grade since the Euro 1999 debut. S&P warned that bondholders could recover as little as 30% of their initial investment if the country restructures its debt.