In five years Chileans living more than doubled in five years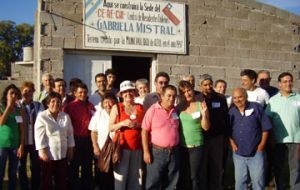 While 850,000 Chileans lived abroad in 2005, now, just five years later, Chile's consulates estimate the number has soared to two million.
The majority of Chileans live in Argentina, the US, Canada, and Australia. However, Spain represents the biggest change in numbers over the last 12 years. In 1998, there were 5,827 Chileans registered living in Spain, but in 2009 that number was 20,800 – almost four times more. Growth occurred in the US, Brazil, and Australia, but on a smaller scale.
"There's been a change in Chile's image that has caused what we could call a brain drain – that is, a drain of qualified workforce," said Raúl Sanhueza, the leader of the Direction for the Community of Chileans Abroad (DICOEX).
"This drain is fed by two streams: professionals who go to work abroad and university students who go to study. Universities are cheaper in Argentina and Bolivia."
Sanhueza said that there has actually been a decrease in emigration to Argentina because of better educational and work opportunities in first-world countries.
Chileans abroad are well organized. According to the DICOEX records, there are at least two associations in every country, and sometimes many more; their focus is on maintaining their national culture.
Because of this, the majority of requests that the public organization receives are for teachers to cultivate and maintain Chileanness. "We have gotten many petitions for sustaining the dialogue between Chileans abroad and Chile. We are working so that young people know where they or their parents come from."
By Elizabeth Osborne – Santiago Times