UK committed to strong naval presence around the Falkland Islands
Monday, June 14th 2010 - 23:59 UTC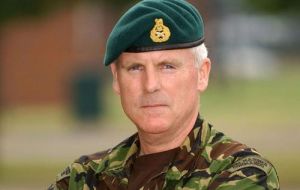 A senior Royal Navy officer stressed that the new British government remains committed to keeping a strong naval presence around the Falkland Islands, reports the Portsmouth press.
Major General Garry Robison promised that warships would continue to be deployed in the South Atlantic as Britain's search for oil there raises diplomatic tensions with Argentina.
The former Commandant General of the Royal Marines, who is now Chief of Staff (Capability) on the staff of the Commander-in-Chief Fleet in Portsmouth, was speaking after HMS York returned earlier this month.
In a speech to the ship's company on the Type 42 destroyer's flight deck, he praised their work of the past seven months, 8,000 miles from Portsmouth.
He said: 'There is no doubt that the South Atlantic and the Falkland Islands remain a strategically important region of the world for the UK.
'The new government, elected while you have been away, has set out its objectives and remains firmly committed to the Falkland Islands.'
During HMS York's deployment she intercepted an Argentine warship spotted about 10 miles inside the disputed 'oil zone' around the South Atlantic Islands.
HMS York had to radio the Argentine ship, a smaller corvette named ARA Drummond, to demand that it change its course.
The destroyer also acted as a guard-ship when the exploratory oil rig Ocean Guardian arrived to begin the search for oil.
Her commanding officer, Commander Simon Staley, 43, from Southsea, who was met by his wife Leonie, said: 'The excellent training prior to our departure last year, stood York in very good stead for what was a challenging and sometimes gruelling South Atlantic deployment.'
He will continue his command and take her back to the South Atlantic again next year.