Spanish leader advices Cameron to act swiftly and fast with budget cuts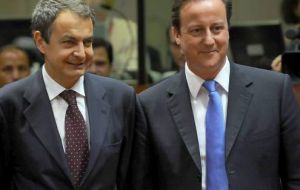 Spanish president Jose Luis Rodriguez Zapatero recommended British PM David Cameron to implement all economic reforms "swiftly, with no delay" and the widest ranging possible.
The two leaders held bilateral talks in the framework of the European Council meeting Thursday in Brussels. PM Cameron praised the Spanish leader's efforts and measures to counter the current slowdown and uncertainties facing the Spanish economy.
Cameron according to Spanish sources told Rodriguez Zapatero of his strong budget cuts plan, which he anticipated would change the "way of life" of the British people, and it was in this context that the Spanish leaded suggested he should act swiftly as soon as possible.
The "fluid" talks underscored the close bilateral relations between UK and Spain which the Conservative leader said he wanted to continue and advance. Apparently Cameron also thanked Rodriguez Zapatero for the Spanish diplomacy efforts in Argentina regarding the UK dispute over the Falkland Islands sovereignty.
The two leaders also exchanged comments about Spain's defeat at the World Cup against Switzerland and Cameron said he wasn't surprised at the bonuses promised to the Swiss team for their victory over cash-strapped Spain.
Cameron underlined that an example of the close links between the two countries are the many British voters who live in Costa del Sol and said he was sad because given his new responsibilities he would have to give up holidays in Ronda, Málaga.
Rodríguez Zapatero finally invited Cameron for an official visit to Spain which was immediately accepted with promises that they would both make morning running tours of Madrid since both are fond of exercising.
In related news Spain's Treasury on Thursday sold 3.48 billion Euros in 10- and 30-year bonds at high interest rates of 4.91% and 5.94%, respectively, according to market data gathered by Spain's government news agency.
Spain had expectations of raising 2.5 billion Euros. But the interest rate the Treasury had to offer on the 10-year bonds was the highest since 2001 and some 80 basis points higher than that offered in the country's previous bond auction in March.
With respect to the 30-year bonds, they were sold at an interest rate well above the 4.77% offered at the previous auction. The 10-year and 30-year bonds were oversubscribed 1.9 times and 2.45 times, respectively.