Spanish, world's second language in international communication and growing
Wednesday, June 23rd 2010 - 03:25 UTC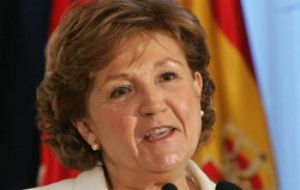 Spanish has 416 million native speakers, ahead of English but behind Mandarin, according to the latest report from Spain's Cervantes Institute. Spanish is also the world's second in international communication and is the third most common in internet.
"Spanish, a living language" is the annual report from the Cervantes Institute on the performance of the native tongue which is official in 21 countries. The report also points out that China's mandarin is dropping although still far ahead with 1.213 million native speakers as is English with 328 million native speakers.
"We have known it is a culture language since at least the XIII century and a dialogue and embracing language as well as a crossing of races element for over five centuries since it expanded to the American continent", said Carmen Caffarel, head of the Cervantes Institute.
"Now-a-days when the global community is demanding to live in permanent contact with the most diverse places in the planet all data confirms that Spanish is one of three or four great languages which channel international relations.
Outside of the Hispanic world there are at least 24 countries where a significant percentage of the population grows up speaking Spanish as its mother language and they add up to 40.5 million. The most numerous Hispanic speaking community is in the United States with over 36 million, since it is the migrant group that has kept the advance of the language through generations.
In 2050, the US will be the country with the largest number of Spanish speaking population in the world. By 2030, an estimated 7.5% of world population will speak Spanish and in three/four generations' time 10% of world population will communicate in Spanish.
Currently an estimated 14 million students are learning Spanish as a foreign language, making it third in line behind English and German.
The Cervantes report also focuses the strong link between the language and economy. Sharing Spanish has helped increase bilateral trade in Spanish speaking countries by 290%, while the three North American countries concentrate 78% of the purchasing power of Spanish speakers.
Between 1997 and 2002 the growth of Hispanic companies in the US was 31% compared to 10% for the average US companies. Besides the number of tourists arriving in Spain to learn the language has soared 138% between 2000 and 2007.
June 19 is the Cervantes Institute Spanish Day which is celebrated worldwide across the Institute's international network of 70 teaching centres that promote the spread of the language.