Brazil forecasts a drop in direct foreign investment because of European crisis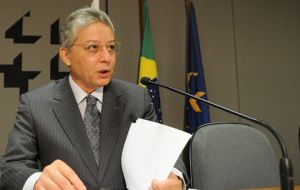 While the Brazilian economy is moving ahead at "Chinese rates" the Central Bank reduced its estimate of direct foreign investment this year from 45 to 38 billion US dollars because of the European crisis.
Brazil's economy expanded nearly 11% in April compared to the same month a year ago, a central bank indicator showed on Wednesday. The bank's Brazilian Economic Activity Index pointed to growth of 10.86% in April compared to April 2009. The index rose 0.27% in April from March.
The central bank also revealed that in May Brazil received 3.5 billion US dollars in direct foreign investment, the highest for the month ever and 2.3 billion more than in April, and the record month of the year so far.
However the bank cautioned that because of the European crisis the inflow of capital is set to show down, and this has been estimated in a 15.5% contraction. Anyhow the 38 billion for 2010 are a significant increase over the 26 billion of 2009.
In the first five months of this year direct foreign direct investment has totalled 11.4 billion US dollars which is practically the same as last year, 11.2 billion.
Altamir Lopes head of the Economic Department from the Central Bank revealed that uncertainty about the European situation has had an impact in the inflow of capital which so far this month (third week) totals 900 million US dollars, with a monthly estimate of 1.5 billion.
Furthermore in spite foreign direct investment in Brazil this year will be higher than in 2009, it is still insufficient to finance the current account deficit which the Central Bank forecasts could reach 49 billion US dollars.
Brazil's economy has been among the fastest-growing in the world this year, expanding 9% year-on-year in the first quarter of 2010