UN reports advances in cutting extreme poverty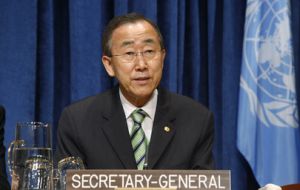 The United Nations Secretary-General said Wednesday that despite the international food, fuel and financial crises, there has been progress toward meeting the Millennium Development Goals, or MDGs, of cutting extreme poverty in half by 2015.
Secretary-General Ban Ki-moon said economic uncertainty cannot be an excuse to slow down development efforts. Rather, it should be a reason to speed them up. "By investing in the MDGs, we invest in global economic growth. By focusing on the needs of the most vulnerable, we lay the foundation for a more sustainable and prosperous tomorrow," he said.
Mr. Ban noted significant progress in getting children into primary schools in sub-Saharan Africa, and improved child health and gender equality in Latin America. But he said overall progress has been mixed. "Stubborn gaps persist between rich and poor, between rural and urban, between males and females," he stated.
The secretary-general said that creating millions of new jobs around the globe, and improving maternal and child health are among two of the most important things that countries can do to achieve the U.N.'s Millennium Development Goals.
He also announced the establishment of an MDG Advocacy Group to be headed by Rwandan President Paul Kagame and Spanish Prime Minister Jose Luis Rodriguez Zapatero. The group will include experts and philanthropists, including Nobel laureates Wangari Maathai and Muhammad Yunus, as well as Microsoft billionaire Bill Gates.
Mr. Ban said their task will be to generate political will and mobilize grassroots movement to meet the MDGs. Their first meeting will be next month in Spain.
In September, Mr. Ban will host a three-day summit on the MDGs ahead of the U.N. General Assembly annual debate. And later this week, he is expected to attend the G-20 summit in Canada, where he says he will urge leaders not to use the global financial crisis as an excuse to slow down or renege on their aid commitments.
In its annual study tracking the Millennium Development Goals, the U.N. reports positive gains in several areas, including improved interventions for people with HIV/AIDS and malaria as well progress on child health issues. But the study also found major gaps. An estimated 1.4 billion people lived in extreme poverty in 2005. The ranks of the world's hungry have continued to grow and only half the developing world's population has access to improved sanitation.