Chile ranks fifth globally in wine exports and eighth in production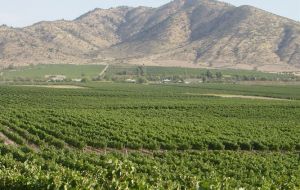 Chile has moved up two spots from its 2008 ranking, accounting for 3.7% of wine world production in 2009, according to a report released by the International Organization of Vin and Wine (OIV).
Italy, France and Spain, traditional wine-producing countries, still lead global wine production and were responsible for 48% of the world total in 2009.
Chile still ranks fifth in wine exports, at 8% of global shipments, or 6 million hectolitres in 2009. In the past year, Chile widened the gap between it and the next largest exporter, the United States, whose percentage of world wine exports dropped from 5.2% to 4.6%.
"The U.S. has extremely high prices and these past few years, because of the [economic] crisis, there has been a demand for more inexpensive wines, an area in which Chile has an advantage," said René Merino, president of Wines of Chile.
The country also narrowed the difference between its share of wine exports and that of Australia, the fourth largest exporter, which accounted for 8.9% of global exports to Chile's 8%.
Although world wine production continues to rise, OIV figures showed a 3.6% drop in wine consumption globally.
Although Chile is one of the top wine producers and exporters, it still lags behind other countries in terms of wine consumption. The French are still the biggest consumers of wine, with 12.6% of the total, followed by Americans and Italians, with 11.5% and 10.4% respectively.
Germany came in fourth place, with 8.6% and was the leading importer of wine in 2009, with 16.8% of the total.
By Adrienne Lee – Santiago Times