Argentine economy expands 9.7% in April, the fastest in two years
Saturday, June 26th 2010 - 05:22 UTC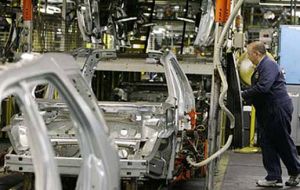 Argentina's economy grew at its fastest pace in nearly two years in April, expanding 9.7% percent from a year earlier, the government announced on Friday. Increased consumer spending and demand for Argentina industrial products, particularly automobiles, from Mercosur partner Brazil helped to boost the economy.
"Argentina's economic activity has returned to levels before the outbreak of the economic crisis," the consultancy group Economia y Regiones said in a report.
In April, with regards to the previous month, the indicator registered the highest variation of the year, with a 1.3% growth, according to data released by the Indec national statistics bureau and measured by the Monthly Estimator of Economic Activity (EMAE).
In the last twelve months, the production of goods and services grew at a rhythm of 2.7%, the highest indicator since June of 2009, when the Argentine economy was beginning to recover from the impact of the global crisis.
April's inter-annual variation was the highest since the same month of 2008, when the EMAE registered a 9.8% improvement.
However Argentina's official economic data has been widely questioned for more than two years as private economists accuse the government of overstating growth and underreporting inflation for political gain.
The government forecasts the economy will expand by 5% this year. The IMF and private analysts also anticipate a strong rebound of Latinamerica's third largest economy.