China says there is no basis for major appreciation of the Yuan or raising rates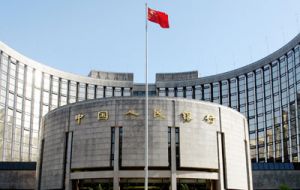 Top Chinese financial officials defended the country's current economic policy and stated there was no need for a major appreciation of the currency or an increase in interest rates since inflation was declining.
"There is no basis for major appreciation of the Yuan, given China's shrinking trade surplus", although the country's latest Yuan policy will help to restructure its economy in the long run, said on Friday Xie Duo, head of the financial market department of the People's Bank of China.
He added that although Beijing's move last weekend to end the Yuan's two-year peg to the dollar had supported the global commodities markets, the impact on those markets should be limited.
He underlined that the international monetary system needed to be reformed in order to solve global economic imbalances, and that adjusting currency exchange rates alone would not be sufficient.
"You cannot depend only on the dollar and the euro to solve economic imbalances," he told a financial conference in Shanghai.
China's decision to allow more flexibility in the Yuan, seen in part as a move to defuse likely criticism at the upcoming Group of 20 summit about its currency policy, sparked a 0.5% rise in the currency this week to its highest since it was re-valued five years ago.
Xie said the Yuan reform showed that China was more confident about managing its economy in the wake of the global financial crisis. With the Yuan now floating against a diverse basket of currencies, he added, market forces would play a bigger role in determining its value.
In related news Li Daokiu, advisor to the People's Bank of China (central bank) said the need for China to raise interest rates is less pressing now that inflation expectations are easing.
"The goal of raising interest rates is to manage inflation expectations" he told reporters at a conference in Shanghai. "If inflation expectations are easing, even though inflation is rising by more than 3%, there is no basis for a rate increase."
Li said inflation expectations are not as strong as they were a couple of months ago before the Chinese stock markets declined. "This should be a new factor to be taken into consideration" in any decision to raise interest rates, he said.