Plain and clear: the Kirchner couple planning for the next ten years
Saturday, June 26th 2010 - 05:36 UTC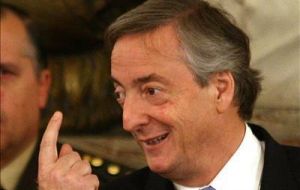 Former president Nestor Kirchner said Argentina needs a "strategic project for the next ten years" and forecasted that investors will arrive knowing the country has an established proven development model.
"Not only are we going to continue to grow with increased investments and production but also because foreign investors will be arriving in Argentina confident that the country has an established and proven development model" and for that "we need Argentina to be governed by people who are prepared".
His statement before an audience of businessmen in the province of Neuquen was interpreted as a clear indication that the Kirchner couple has plans to remain in power for the next ten years that is until 2020.
Kirchner said that during his rule the country "managed climb out of hell" and currently under wife Cristina Kirchner, Argentina is going through the strengthening of the model, and as of 2011, "the consolidation and construction of strategic variables" will take off.
"The next stage is consolidation and we are talking of ten years. In that project there can be elected governments from different political parties or the same political party with different names", underlined Kirchner who added that "we must ensure security and stability for investors".
Kirchner made an outline of the different measures implemented during his 2003/07 period and those advanced since his wife Cristina Kirchner was elected president.
He mentioned GDP growth, improved tax revenue, the process of lowering sovereign debt, recovery of the jobs market, diminishing poverty and indigence, extending benefits to five million unprotected old age pensioners and the improvement of income distribution.
"Following on one of the most successful shavings of sovereign debt, after having reimbursed 11.8 billion US dollars to the IMF to free ourselves from the chains imposed by orthodox policies, now we have the latest successful debt swap with an acceptance of 66%", said the former president.
"We are practically out of the (2001) default and en route to definitively lowering sovereign debt, a process which under President Cristina Kirchner has also benefited the provinces with the restructuring of their debts at an annual interest of 6% and with no indexing", said Kirchner.
Presidential elections are schedule for 2011 and Mr. Kirchner has virtually confirmed through his closest aides and trusted ministers that he will be running again.
A divided and ineffective opposition, tight control over government branches, improving public opinion polls and the rebound of the Argentine economy supported by bountiful crops anticipate that the Kirchners project is highly viable.