Toronto G-20: Germany's Merkel emphasizes "mutual understanding" with US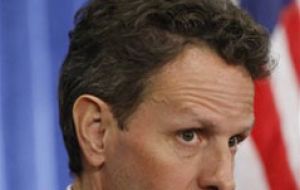 Germany's Chancellor has insisted that Europe's leaders are making good progress in talks with the US about how to bolster fragile economic growth. Angela Merkel told journalists at the G8 summit in Canada there was "mutual understanding" with President Obama over deficit reduction plans. Leaders are attending summits of the G8 and G20 groups of leading states.
Mr Obama is worried that a series of deep budget cuts announced by European countries may delay global recovery. But on Friday, after an initial meeting of the G8 - US, Canada, Germany, UK, France, Italy, Russia, Japan - Mrs Merkel said there was much common ground.
"I have made it clear that we need sustainable growth and that growth and intelligent austerity measures don't have to be contradictions," Mrs Merkel told journalists.
"The discussion was not controversial, there was a lot of mutual understanding," she said.
President Obama voiced his concerns about the speed of budget cuts in a letter to G20 leaders last week, while Treasury Secretary Timothy Geithner told the BBC that Europe should focus on growth as well as cutting spending.
"Europe can make a choice to put in place the reforms and policies that will provide the possibility of stronger growth rates in the future," Mr Geithner said.
"This [G20] meeting gives us the chance to sit together and look at whether we've got a broad strategy across countries that's going to strengthen this recovery.
"Our job is to make sure we're all sitting there together to focus on this challenge of growth and confidence because growth and confidence are paramount."
The US has made quite clear its fear that European efforts to cut national deficits could actually make the current rocky economic situation much worse. In other words, let's not go back to the 1930s, when the economic orthodoxy actually turned the Wall Street crash into a horrific depression.
But it has one less thing to worry about than European leaders - a shaky currency. So as world leaders gather in Toronto there may be squabbles over fears that the EU has overreacted to the Greek debt crisis.
But from the European perspective the consequences of drastic cuts are less worrying than the economic fire storm that nearly engulfed the region just a month ago.
Earlier on Friday Mr Obama called for the G20 to pull together to promote economic growth, saying that world economies are "inextricably linked". The president was speaking just hours after US lawmakers agreed the biggest reform of financial regulation since the Great Depression.
Mr Obama said that the G20 had made progress in its last two meetings in responding to "the worst financial crisis of our time".
"This weekend in Toronto I hope we can build on this progress by co-ordinating our efforts to promote economic growth, to pursue financial reform, and to strengthen the global economy," Mr Obama said.
UK Prime Minister David Cameron denied that he was at odds with Mr Obama over the speed with which budget cuts should be made.
But Mr Cameron told the BBC before the G8 met that those countries with the biggest deficits "have to accelerate the process of dealing with them because the big risk to our economies is actually not dealing with the deficits."
David Cameron: "I want to get the right outcome for the world economy"
Herman van Rompuy, the president of the European Council, has said that the EU key words this weekend would be "growth, confidence and medium term".
"The restoring of confidence in budgetary policies go hand in hand with effective growth strategies," he said ahead of the meetings. (BBC).